Regime bombs kill 71 civilians in Syria's Aleppo
The barrel bombs were dropped on the city of Al-Bab and in eastern neighbourhoods of Aleppo
A series of barrel bombs dropped by Syria's regime killed at least 71 civilians and wounded dozens in Aleppo province on Saturday, said the Syrian Observatory for Human Rights, according to AFP.

"At least 71 civilians were killed, and dozens were wounded, when regime helicopters dropped barrel bombs on the city of Al-Bab and in eastern neighbourhoods of Aleppo," the Britain-based Observatory reported.

Al-Bab, about 40 kilometres (25 miles) northeast of Aleppo city, is controlled by the extremist Islamic State of Iraq and Syria (ISIS), while the east of the provincial capital is in rebel hands.

Infographic: Syrian regime strikes Aleppo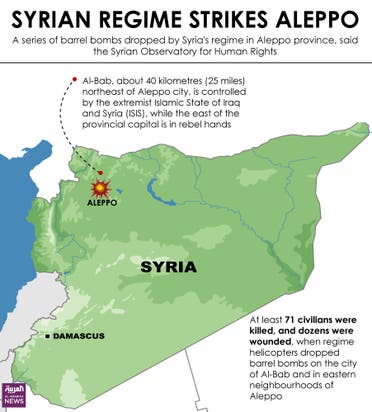 [With AFP]