Saudi religious body slams mosque attackers
The council, also known as the Senior Council of Ulema, is the Saudi Arabia's highest religious body
Saudi Arabia's Council of Senior Scholars on Friday condemned the suicide attack near Al-Anoud Mosque in Dammam.
The council, also known as the Senior Council of Ulema, is the Saudi Arabia's highest religious body and advises the king on religious matters.
Four people were killed Friday when a car exploded near a mosque in Saudi Arabia's eastern city of Dammam, the state-run Saudi Press Agency reported, adding that militants failed in their bid to hit the mosque after security officials foiled the attack.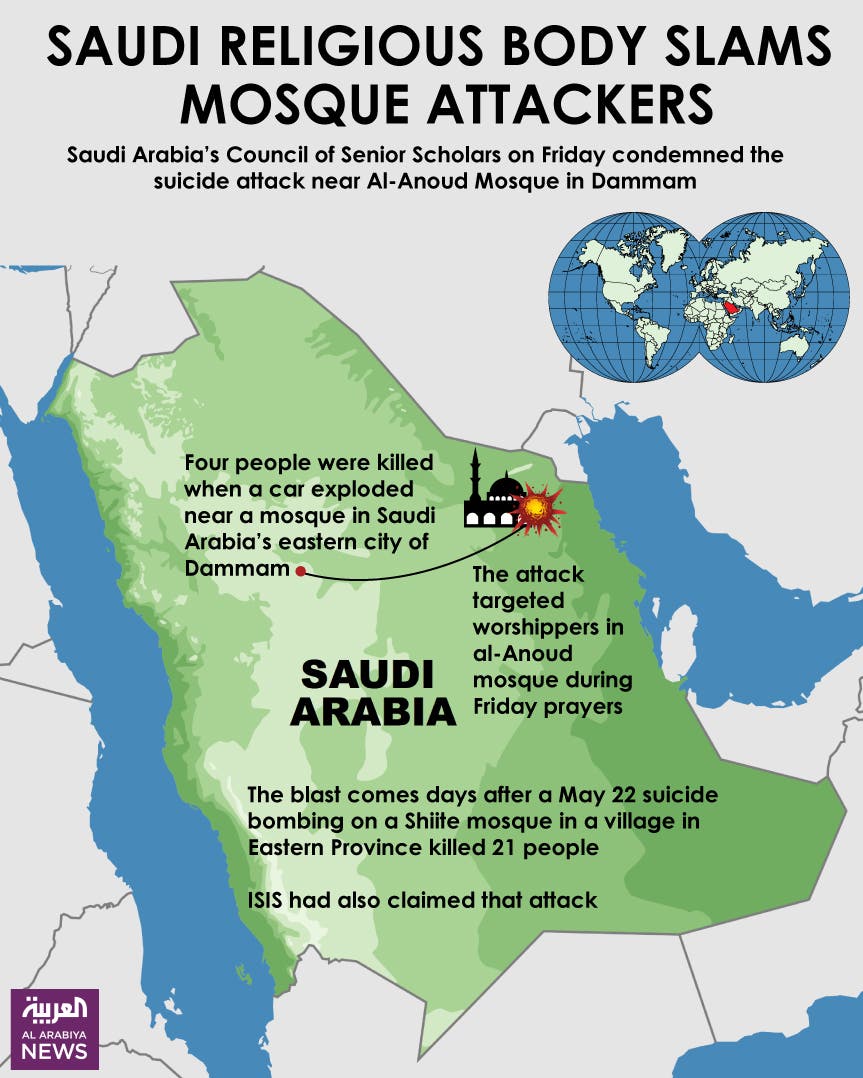 The attack targeted worshippers in al-Anoud mosque during Friday prayers, a ministry spokesperson said, quoted by the Saudi state news agency SPA. The Islamic State of Iraq and Syria (ISIS) claimed the suicide bombing.
The blast comes days after a May 22 suicide bombing on a Shiite mosque in a village in Eastern Province killed 21 people. ISIS had also claimed that attack.
In a statement issued on Friday and carried by the Saudi Press Agency, the board said the "terrorist groups behind the ghastly attack on Al-Anoud Mosque and Al-Qudaih's Ali Bin Abi Talib Mosque have exposed their hideous faces."
The statement said: "Islam forbids attacking places of worship even in legitimate wars. How can one target mosques in a Muslim society and a country that rules by the Shariah and serves the Two Holy Mosques?"

The statement also called for unity to "root out the menace of terrorism from our society."
It also reposed full confidence in the Kingdom's "security personnel who are always alert to the dangers posed by deviant forces."
Grand Imam of Egypt's Al-Azhar mosque also condemned the terror attack targeting worshippers. He said it was necessary for all Muslims to maintain Islamic unity.