Egypt militants fire rockets towards Sinai airport
Sinai Province is affiliated with the Islamic State of Iraq and Syria and claimed responsibility for the attack on Twitter
Sinai Province, Islamic State of Iraq and Syria's Egypt affiliate, fired rockets on Tuesday at the direction of an airport in Sinai used by multinational peacekeeping forces, security sources said, adding that there were no casualties reported.
The group claimed responsibility for the attack on several Twitter accounts linked to it.
Details of the attack were not immediately clear with some security sources saying the rockets fell inside the airport and others saying they fell outside.
Infographic: Egypt militants fire rockets towards Sinai airport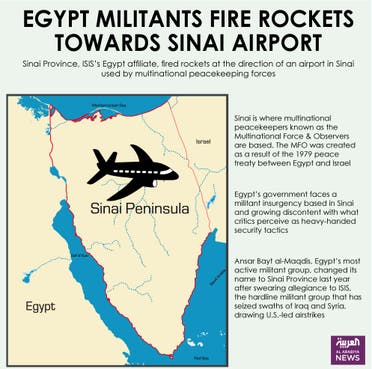 Sinai is where multinational peacekeepers known as the Multinational Force & Observers (MFO) are based. The MFO was created as a result of the 1979 peace treaty between Egypt and Israel.
Egypt's government faces a militant insurgency based in Sinai and growing discontent with what critics perceive as heavy-handed security tactics.
Tweets from Twitter accounts linked to Sinai Province claimed responsibility for the attack on Tuesday night, saying it came in response to the police arresting a local woman.
Ansar Bayt al-Maqdis, Egypt's most active militant group, changed its name to Sinai Province last year after swearing allegiance to ISIS, the hardline militant group that has seized swaths of Iraq and Syria, drawing U.S.-led airstrikes.
Sinai Province had so far focused its bombing and shooting attacks on members of Egypt's security forces, who mounted the country's toughest crackdown on Islamists after the military removed President Mohammad Mursi of the Muslim Brotherhood from power following mass protests against his rule.
The group also released a recording in May urging attacks against members of the judiciary. The recording surfaced days after a court's decision to seek the death penalty for Mursi and followed the state's execution of six members of Sinai Province for an attack on soldiers in Cairo last year.