Deadly blasts in Yemeni capital strike Houthi HQ
The Islamic State of Iraq and Syria (ISIS) claimed responsibility for the attacks
The political headquarters of the Houthi militias and three mosques were targeted in a series of bomb blasts in the Yemeni capital Sanaa on Wednesday, killing 31 and wounding dozens, Al Arabiya News Channel's correspondent reported.
Just hours later, the Islamic State of Iraq and Syria (ISIS) claimed responsibility for the attacks in an online statement, reported Reuters.
Additionally, the house of Saleh al-Samad, the head of the Houhthi office, was targeted by a car bomb, Al Arabiya News Channel reported.
The blasts came as Saudi-led forces conducted more air strikes against Houthi military sites across Yemen and as delegates attending peace talks in Switzerland reported no progress on the second day of a U.N.-sponsored push for a Ramadan truce.

"Four car bombs targeted the political bureau of Ansarullah [the Houthis], the Hashush mosque in the Jiraf district, the Kibsi mosque in the Zira district and the Qubat al-Khadra mosque, causing the martyrdom and injury of dozens," the official told Reuters on condition of anonymity.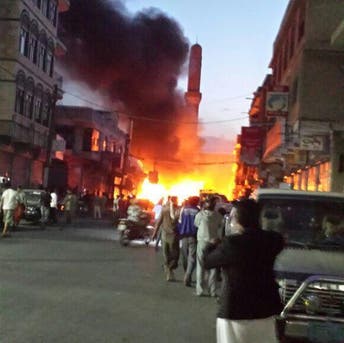 Earlier on Wednesday Houthi fighters in central Yemen blew up the home of a senior politician, Abdel-Aziz Jubari, while he was attending the Geneva talks as a member of the exiled government's delegation.
The Houthis seized the Yemeni capital Sanaa in September and pressed into the country's center and south, forcing President Abdrabbu Mansour Hadi and his government into exile in Riyadh.

A coalition of Arab states headed by Saudi Arabia has been bombing the Houthis - who hail from the Zaydi sect of Shiite Islam - and their allies in Yemen's army since March 26.
The latest air raids by the Saudi-led alliance focused on army bases in Sanaa and Houthi targets in Yemen's central desert and the mountainous province of Mahweet, one of the last provinces in Yemen not to be bombed since the campaign began.