Yemen's Houthis in deadly clashes with Hadi loyalists
The clashes between the two factions led to the killing of a Houthi leader in Yemen's western governorate of Raima
At least five Iranian-backed Houthis were killed Saturday in Yemen's central province of al-Bayda during heavy clashes with the Popular Resistance Front loyal to President Abdrabbu Mansout Hadi, Al Arabiya News Channel reported.
Other clashes between the two factions in Yemen's western governorate of Raima led to the killing of a Houthi leader, according to the channel.
In the southern port city of Aden, at least 13 Iranian-backed Houthi militias were killed after heavy clashes with the Popular Resistance broke out.
Infographic: Yemen's Houthis in deadly clashes with Hadi loyalists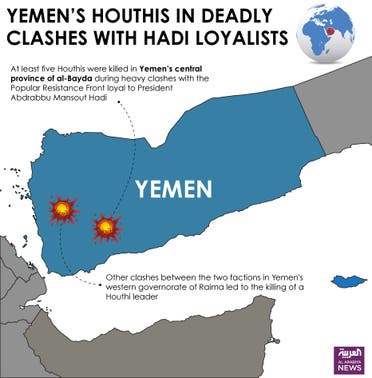 The battles came after Houthi forces fired missiles at storage tanks at an Aden oil refinery, starting a large fire.
Also on Saturday, Aden's deputy governor, Nayef al-Bakri called for the intervention of the international community to save the war-torn city.
The minority Houthis have been battling the Yemeni government for months, taking control of major cities, including the capital Sanaa.