Yemen's president pens letter on country's situation to U.N. chief
Hadi said that there had been a "dangerous escalation" of violence around the government-controlled southern port city of Aden
Yemen's President Abdrabbu Mansour Hadi on Tuesday sent a letter to U.N. chief Ban Ki-moon highlighting a need for humanitarian aid in his conflict-torn country, according to a copy of the document obtained by Al Arabiya News.
In the letter, Hadi said that there had been a "dangerous escalation" of violence around the government-controlled southern port city of Aden, adding that "the Yemeni government has been coordinating with U.N. humanitarian groups to allow ships carrying aid to dock at Yemeni ports."
The correspondence was confirmed by Yemen's U.N. ambassador Khaled Alyemany, who told Al Arabiya News Channel in a special interview that the president had sent a letter to the U.N. Secretary-General on aid.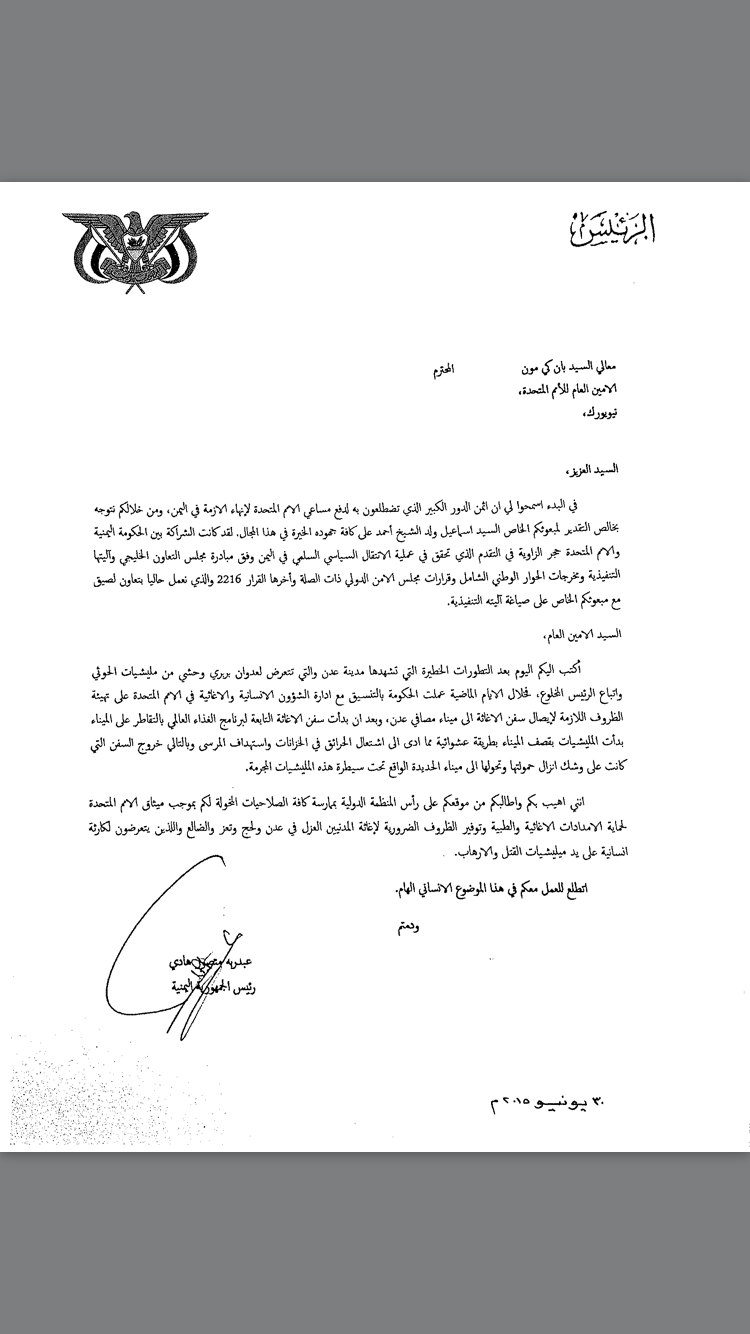 In the interview, Alyemany discussed the latest updates of the Yemeni delegation's current visit to Washington during an interview with Talal al-Haj, Al Arabiya News Channel's bureau chief for New York and the United Nations.
Alyemany also said the legitimate Yemeni government submitted a draft peace proposal to Ismail Oud Cheikh Ahmed, the United Nations envoy for Yemen, before he holds talks with Houthi rebels in two days.
He said the government considers the draft principles paper a mechanism to implement United Nations Security Council resolution 2216, which calls for the unconditional end to the violence.
The government has insisted on the implementation of a Security Council resolution demanding the withdrawal of the Houthis and their allies from captured cities, including the capital.
The Houthis want a temporary cease-fire, which the government has rejected, saying the militiamen exploited an earlier humanitarian pause to grab more territory.