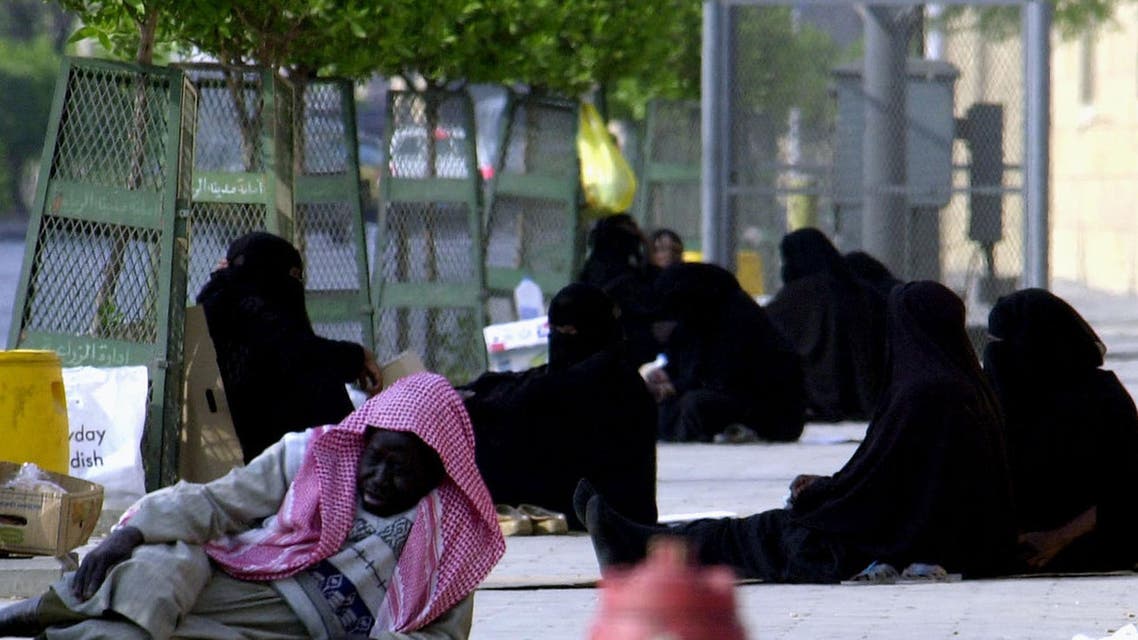 Beggars 'invade Saudi streets' during Ramadan
Saudi Arabia is filled with beggars during Ramadan
Beggars can be seen all over Saudi Arabia, even in towns and villages, especially during the holy month of Ramadan.
While some are genuinely in need, there are a large number of people who traffic women and children into the Kingdom and run elaborate begging syndicates.
Al-Riyadh newspaper spoke to several authoritative figures for their expert opinions on solutions to put an end to the presence of beggars on the Kingdom's roads.
Saudi Grand Mufti Sheikh Abdulaziz Al-Asheikh said people should not give money to beggars who stand near stoplights, houses and on streets.
"Giving them money hinders the work and efforts of anti-begging authorities trying to clamp down on beggars," he said.
"Those with documents stating they are suffering from medical problems are exempt and it is okay to give them money but not from zakat money because the extent of their medical problems are not known to the general public.
For example, despite having an illness, they may still be capable of working but choose to beg instead," he added.
Difficult circumstances
Abdulrahman, a 10-year-old boy, stands near a stoplight to beg. He says the money helps his family survive. His father suffers from an unknown mental illness and is unemployed.
Abdulrahman makes SR100 a day but it's not uncommon for beggars to make two or three times as much. Salim, a diabetic patient who was spotted near a gas station begging, claimed he was making between SR200 and SR300 a day.
Salih Al-Saqabee, former deputy chairman of the National Committee of Lawyers, said most beggars end up engaging in criminal activities.
He said begging syndicates are often run by people whose only goal was to make money. In order to tackle the problem, he said accurate statistics on the number of beggars in the Kingdom are needed.
"Most beggars are undocumented workers, a fact that makes it difficult for authorities to provide accurate statistics on their numbers.
How are you going to put on trial beggars who don't have any IDs? We can't determine how enormous the problem is without having accurate statistics about the number of beggars in the country," he said, noting that the efforts exerted by the pertinent authorities are not enough and the number of anti-begging officers should be increased to tackle the problem.
Joining forces
Dr. Naif Al-Subahi, social care undersecretary at the Ministry of Social Affairs, said begging is one of the negative practices that can be seen and found all over the world.
"It might differ from one society to another in terms of methods used for begging money; however, it is the same everywhere.
In my opinion, the only solution is for the pertinent authorities and citizens as well as expatriates to cooperate to eradicate this problem.
"We don't impose deterring penalties on beggars and those who push them to beg. Mosque imams also don't talk about the issue much, nor do they prevent people from begging inside mosques.
The media is also not performing its role of raising awareness about the dangers of begging," he said.
Overstaying pilgrim visas
A recent study revealed that most beggars are either Umrah and Haj visa overstayers or undocumented workers who illegally crossed into the country.
The majority of them are illiterate, according to the study, which noted that Jeddah has the largest number of them, followed by Makkah and Riyadh respectively.
The reasons for begging range from poverty and hardships to unemployment and compelling circumstances, the study said.
Most beggars who were caught were between the ages of 16 and 25, were married and had large families to support.
The study stressed that citizens and expatriates should pay zakat to charitable organizations instead of to beggars.
Omar Al-Eid, director of the Riyadh anti-begging office, said the majority of beggars are expatriates, both legal and illegal.
He claimed public sympathy toward beggars has increased their numbers. "One of the obstacles the office faces is a shortage of inspectors.
We don't have enough employees to conduct anti-begging campaigns. Another obstacle is the absence of cooperation on part of mosque imams who are supposed to prevent people from begging inside mosques," he said.