Syria shelling kill dozens in Aleppo and Idlib
The Britain-based Observatory said the death toll was likely to rise as more bodies were discovered
A missile fired by Syrian forces killed at least 18 civilians Tuesday in a residential neighborhood of the old quarter of Aleppo city, a monitoring group said.
"The missile struck when people were still inside their homes in the Maghayir district. It killed 18 civilians, including one child, and wounded dozens of others," said Rami Abdel Rahman, director of the Syrian Observatory for Human Rights.
"There are many people still stuck in the rubble, and ambulances are going back and forth transporting people," Abdel Rahman said.
The Britain-based Observatory said the death toll was likely to rise as more bodies were discovered.
Photos published by the monitor showed crumbling walls surrounded by a sea of dusty plastic and cinderblocks.
Groups of men, some wearing the white helmets associated with civil defence volunteers, waded through the rubble.
More than 35 homes were destroyed, the Observatory said.
Also on Tuesday, Syrian extremists, including al-Qaeda-affiliated fighters, have fired hundreds of rockets and mortar shells on two besieged Shiite-majority villages in the northwestern province of Idlib.

At least seven people were reported killed in the shelling by the Army of Conquest alliance on the regime-held villages of Fua'a and Kafrayya on Monday and Tuesday, the Syrian Observatory for Human Rights said.

It was unclear if the victims were civilians or government troops, the Britain-based monitor said.

Hundreds more were wounded in the bombardment.

Fighting continued around the two villages on Tuesday, with opposition forces including Al-Qaeda affiliate Al-Nusra Front battling regime forces and fighters from Lebanon's Shiite Hezbollah movement.

Al-Nusra, like many of Syria's extremist groups, considers Shiite Muslims to be heretical.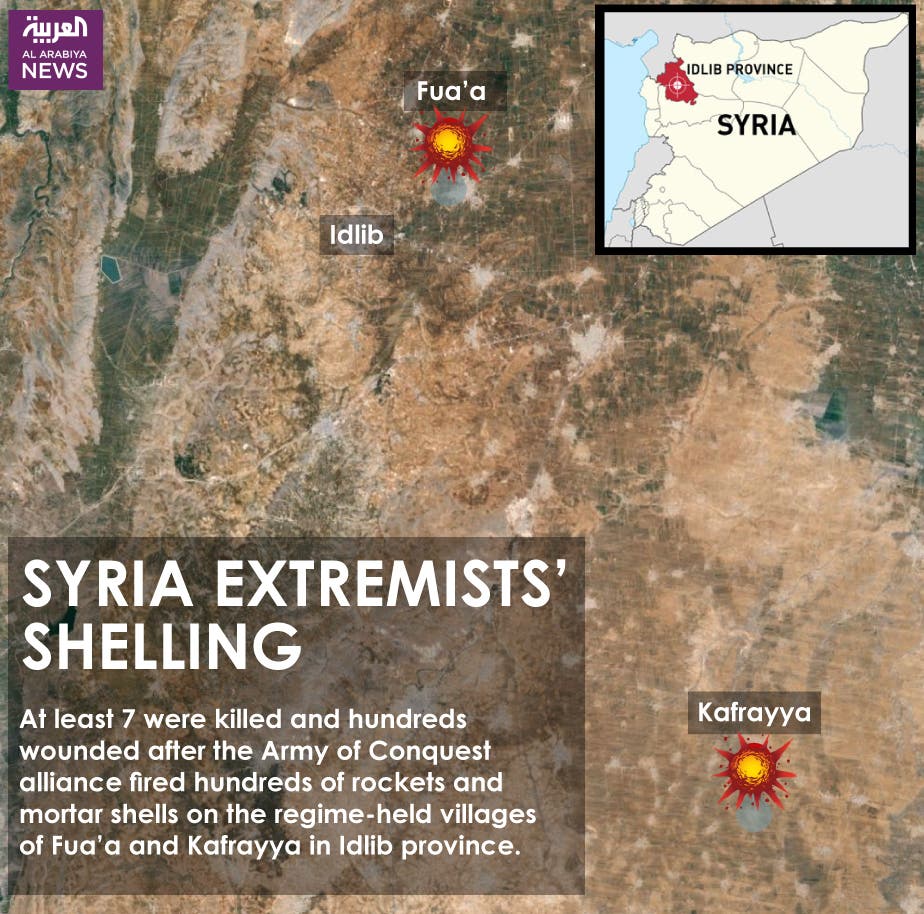 The escalating clashes prompted concern in Damascus, where pro-regime militiamen and their families from the two villages held demonstrations asking to be sent there to defend them.

Most of Idlib province, including its provincial capital, is now held by fighters from the Army of Conquest and other extremist groups after a sweeping offensive earlier this year.

Fua'a and Kafrayya are among the few remaining outposts of regime control in the province, and are now completely besieged.

The Army of Conquest began an attack against the villages on July 15, saying it was retaliation for a regime offensive on Zabadani, the last extremist-held bastion along Syria's border with Lebanon, earlier this month.

It said the attack would "give you a taste in the north of what our people are tasting in Zabadani".