Britain, Saudi investigate Bin Laden family crash
Friday's incident in southern England is third time a Bin Laden family member dies in a plane crash
A Saudi private jet carrying three passengers and a pilot crashed in southern England on Friday, reportedly including members of the family of al-Qaeda leader Osama Bin Laden, who died in Pakistan in 2011.
The plane crashed killing all onboard. A spokesman for Britain's Hampshire police service said an investigation into the causes of the incident had been launched.
British media reports said the plane was carrying Osama bin Laden's half-sister and stepmother.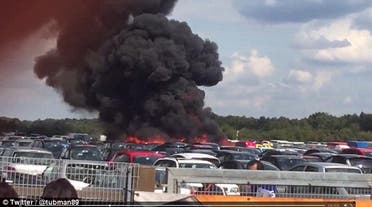 The Saudi ambassador to the United Kingdom, Prince Mohammed bin Nawaf bin Abdul Aziz, offered his condolences to the Bin Laden family on his Twitter page, but did not confirm the identities of the victims.

The embassy said it is collaborating with British authorities to investigate the incident and ensure the speedy handover of bodies to the kingdom.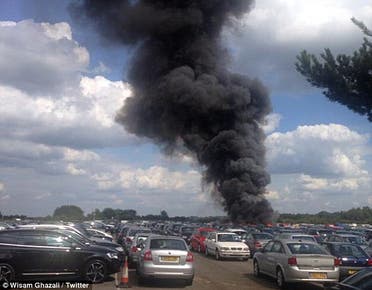 The Embraer Phenom 300 jet crashed into a car auction center near Blackbushe airport in Hampshire on Friday, killing the three passengers and a Jordanian pilot.
The plane was flying into Hampshire from Milan, where the Bin Ladens are understood to have business interests in northern Italy.
The Phenom 300 jet was registered to a Bin Laden-owned firm called Salem Aviation, named after the former al-Qaeda leader's eldest brother, who himself died in a plane crash in 1988.
The terrorist leader's father was also killed in a plane crash in 1967 in Saudi Arabia when his helicopter crashed into a mountain in Taif.