Yemen's vice president returns to Aden
Khaled Bahah has become the most senior official to travel to the city since local fighters drove Houthis out
Yemen's Vice President Khaled Bahah on Saturday returned to the southern port city of Aden from his exile in Saudi Arabia, Al Arabiya News Channel reported.
Bahah has now become the most senior official to travel to the city since local fighters drove an Iran-backed Houthi militia out more than two weeks ago.
"My visit to Aden should not come as a surprise. The city needs facilities to engage in politics," Bahah said in statements made a few hours after his arrival.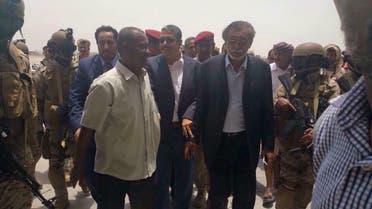 Bahah, who is also the prime minister of the exiled government in Riyadh, arrived aboard a Saudi plane. Several cabinet members were also traveling with Bahah, who arrived in Aden around noon local time (0900 GMT).
Bahah, who is also prime minister in the internationally recognized government, fled into exile with President Abedrabbu Mansour Hadi and the rest of his government when the rebels entered Aden -- their last refuge -- earlier this year.