Sudan's Bashir plans to speak at U.N. in New York
Wanted leader had planned to speak at the General Assembly in 2013, but his visa was left pending
Sudanese President Omar Hassan al-Bashir, who has been indicted by the International Criminal Court on war crimes and genocide charges, is planning to travel to New York in September to speak at the United Nations, Sudan's deputy U.N. envoy said on Monday.

A provisional U.N. agenda for a sustainable development summit lists the Sudanese head of state as scheduled to speak on Sept. 26. The summit is due to formally adopt a plan for the world's sustainable development over the next 15 years.

When asked if Bashir would be attending the summit, Sudan's Deputy U.N. Ambassador Hassan Hamid Hassan said: "Yes."
Infographic: Will Sudan's Bashir go to New York?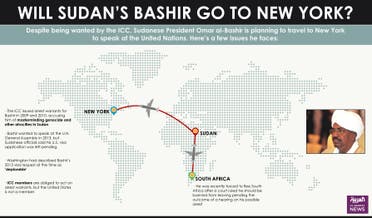 He gave no further details. A provisional agenda for the U.N. General Assembly meeting of world leaders, which begins on Sept. 28, only lists Sudan as being represented at ministerial level.

Sudan's foreign ministry spokesman Ali al-Sadiq declined to comment.

Bashir wanted to speak at the U.N. General Assembly in 2013, but Sudanese officials said his U.S. visa application was left pending, preventing him from traveling. Washington described the visa request at the time as "deplorable."

A spokesman for the U.S. State Department was not immediately available for comment on Bashir's plans to visit New York next month.

The Hague-based International Criminal Court issued arrest warrants for Bashir in 2009 and 2010, accusing him of masterminding genocide and other atrocities in his campaign to crush a revolt in the western Darfur region.

Members of the International Criminal Court are obliged to act on arrest warrants. The United States is not a member. Washington also has a special agreement to allow leaders of U.N. member states to attend the annual General Assembly.

Bashir, who rejects the court's authority, has managed to travel within Africa and the Middle East. He was recently forced to flee South Africa, however, after a court ruled he should be banned from leaving pending the outcome of a hearing on his possible arrest.