Shelling hits Syrian towns as ceasefire breaks down
Shelling resumed on Saturday in two government-held villages in northwest Syria and a rebel town near Damascus
Shelling resumed on Saturday in two government-held villages in northwest Syria and a rebel town near Damascus, state media and a monitor said, as a ceasefire for the areas collapsed.
The violence came despite talks about extending the truce that began on Wednesday morning and aimed at reaching a final deal to stop fighting in the three areas.
Syrian state television said a child and her father had been killed and 12 others wounded in "terrorist shelling" on the regime-held villages of Fuaa and Kafraya in Idlib province.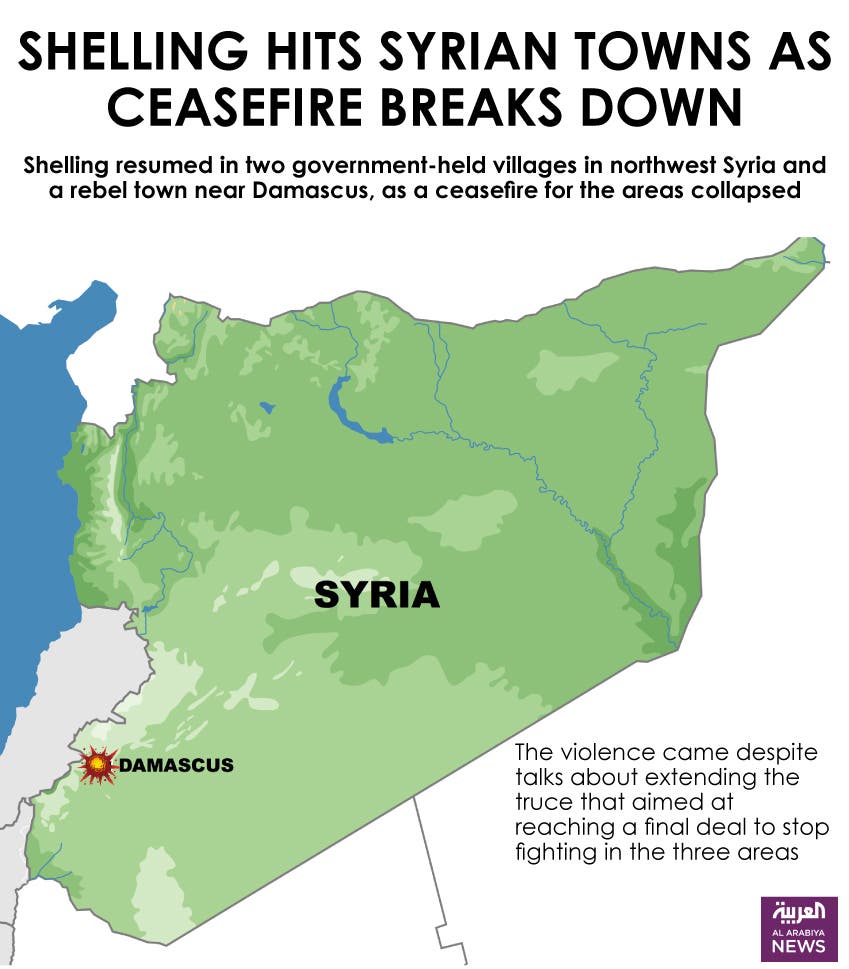 The Syrian Observatory for Human Rights, a British-based monitor, said rebels had fired about 20 missiles at the two villages and also reported shelling on the rebel-held town of Zabadani.
In Fuaa, a resident who spoke on condition of anonymity confirmed the bombardment.
"Today we've been hearing the sound of explosions since dawn," the resident said. "The truce failed and the attacks have resumed."
The truce agreement between rebel groups and pro-regime factions, including Lebanon's Shiite militia Hezbollah, came into effect in the early hours of Wednesday morning.
Before its expiry on Saturday morning, intensive negotiations had been under way for an extension of the ceasefire and a full deal.
The talks centred on the withdrawal of rebels from Zabadani and the evacuation of civilians from Fuaa and Kefraya, which are the last two government-held villages in Idlib province.
But the negotiations reportedly stumbled over an opposition insistence that thousands of prisoners be released from government jails, according to Observatory chief Rami Abdel Rahman.
He said negotiations on the deal were continuing despite the ceasefire faltering.
"The talks are ongoing, but there are breaches in the ceasefire," he said, citing sources close to the talks.
"It's not clear if the breaches are attempts by the parties to improve the conditions of the deal or come from those who want to thwart the negotiations," he said.