ISIS claims car bombing of Cairo police building
The bombing wounded 29 people, including six policemen, said health ministry spokesman Hossam Abdel Ghaffar
The Islamic State of Iraq and Syria (ISIS) group claimed Thursday's car bomb attack on a police building in the Egyptian capital that wounded 29 people, including six policemen.
The powerful blast in Cairo's northern Shubra district came in the middle of the night, the latest in a wave of militant attacks targeting security forces.
"ISIS soldiers managed to target a police building by a car bomb in the heart of Cairo," said an ISIS statement posted on a Twitter account affiliated with the group.
The building houses a center for investigating threats to national security.
The bombing wounded 29 people, including six policemen, said health ministry spokesman Hossam Abdel Ghaffar.
"One policemen suffered moderate injuries and the rest (of those hurt) had minor injuries," he said.
Comments on Twitter indicated the blast was heard in several parts of the Egyptian capital. Shopkeeper Mohamed Ali said he saw a man park a vehicle that exploded after he stepped away from it.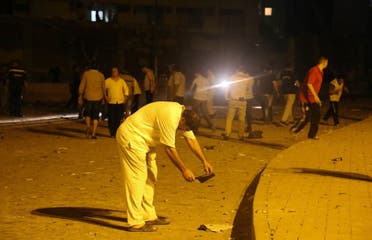 Militants based in the Sinai, who support ISIS that controls parts of Iraq and Syria and have a presence in Egypt's neighbour Libya, have previously claimed responsibility for attacks on security forces.

Hundreds of soldiers and police have been killed since the army toppled Islamist President Mohamed Mursi in 2013 after mass protests against his rule.

Egyptian President Abdel Fattah al-Sisi has vowed to eradicate militancy, which he has said is an existential threat to the Arab world and the West.

Egyptian authorities have mounted the toughest security crackdown against militants in the country's history, drawing criticism from human rights groups who accuse the government of stifling dissent.

This month Sisi approved an anti-terrorism law that sets up special courts and protects its enforcers in the face of a two-year-long Islamist insurgency that aims to topple his government.

The law has come under fire from human rights groups that accuse Sisi of rolling back freedoms won in the 2011 uprising that toppled autocrat Hosni Mubarak.
(With Reuters and AFP)