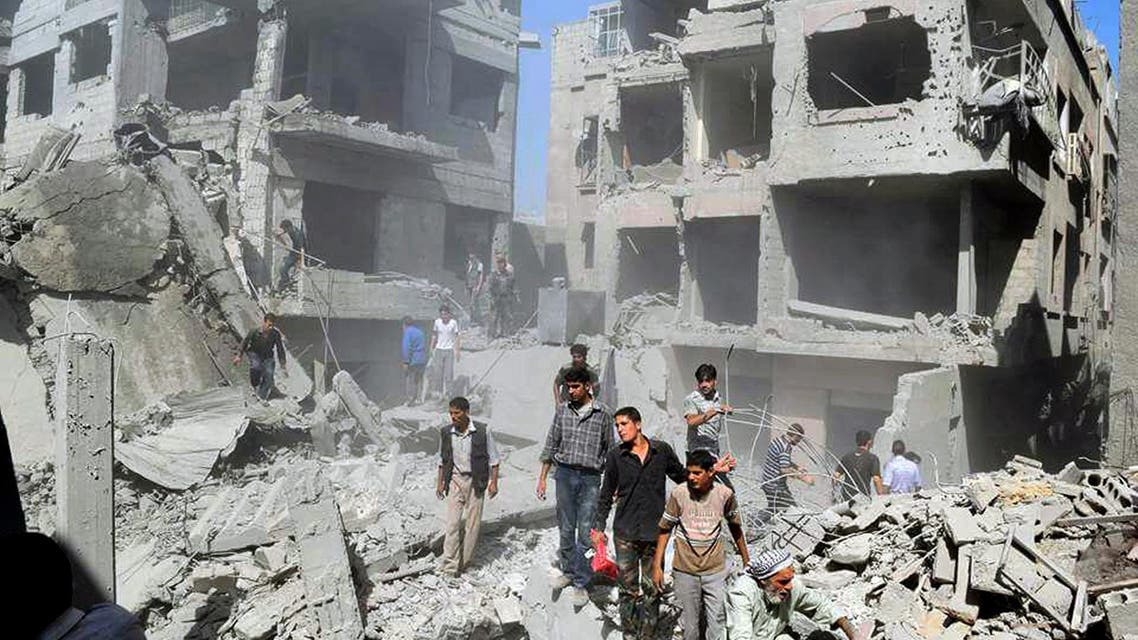 Syrian regime airstrikes on Douma kill 50
Douma is part of the rebel-held Eastern Ghouta area, which is regularly targeted by regime shelling and bombardment
Syrian regime airstrikes on Saturday killed 50 people in the rebel-held town of Douma east of Damascus, Al Arabiya News Channel reported citing local committees.
Almost 200 were injured, and some remain trapped beneath the rubble, after the sorties destroyed several buildings in the town.
The Syrian Observatory for Human Rights placed the number of casualties at "at least 20" adding that death toll was expected to rise.
"At least 20 civilians were killed in the heavy shelling and air attacks since this morning on Douma," said Rami Abdel Rahman, head of the Syrian Observatory for Human Rights.
On Sunday, regime attacks on Douma killed more than 100 people and sparked international condemnation of one of the bloodiest government attacks in Syria's war.
According to the Local Coordination Committees activist network, Saturday's bombardment struck four adjacent buildings in the town.
Photographs published by a local activist group depicted a young, bloodied child being carried across a field of concrete rubble.
Volunteers searched through crumbling buildings, some of which were missing entire walls, to find survivors.
Douma is part of the rebel-held Eastern Ghouta area, which is regularly targeted by regime shelling and bombardment.
Last week's attacks, in which the Britain-based Observatory said 117 people had been killed, drew harsh criticism of the Syrian government's indiscriminate attacks on civilians.
More than 240,000 people have been killed and millions have been forced to flee since the conflict began in March 2011.
[With AFP]