Yemen's pro-Hadi forces mobilize to retake Sanaa
The Popular Resistance is backed by a Saudi-led coalition, which has been leading an air campaign against Houthis since March
Forces loyal to President Abdrabbu Mansour Hadi are stepping up military efforts to retake Yemen's capital Sanaa from Iranian-backed Houthi militias, according to Al Arabiya News Channel.
The Popular Resistance is backed by a Saudi-led coalition, which has been leading an air campaign against the militia since March, and Yemeni armed forces.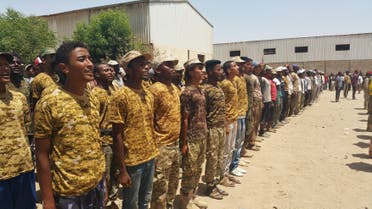 The Houthis overran Sanaa in September, causing violence across the country.
Meanwhile, Saudi special forces have revealed that landmines believed to be planted by Houthis have been located on the Saudi-Yemeni border, according to security sources.
The sources said that the special forces have successfully destroyed the landmines.
On Sunday, Houthis seized control of the University of Sanaa and captured a number of professors, including an education official.
Last month, Yemeni forces supported by Saudi-led air strikes recaptured positions on the outskirts of the second city of Aden, areas used by Houthis to fire rockets into the city.
A political crisis in Yemen descended into civil war in late March when Houthi forces advanced south toward the main southern port of Aden in late March and caused Hadi to flee to Saudi Arabia.