Authorities eject ministry protesters in Beirut
Lebanese protesters stormed the Environment Ministry earlier today over the country's garbage crisis
Lebanese police have begun forcibly removing protesters who stormed the Ministry of Environment in downtown Beirut earlier on Tuesday, an activist told Al Arabiya News.

The country's interior minister gave the protesters 30 minutes to clear the building, the channel quoted him as saying.
There were about 50 protesters inside the ministry building, the whereabouts of at least 30 remain unknown, an activist from the movement known as "You Stink" told Al Arabiya News.
"…around 30 are not seen at all … we do not know if they were arrested or anything else has happened to them or if they were beaten or admitted to hospitals," Hassan Shamas said Tuesday.
"We know two who were admitted to the American University of Beirut hospital," he added. They both suffered serious injuries, according to Shamas.
Infographic: Protesters storm environment ministry in Beirut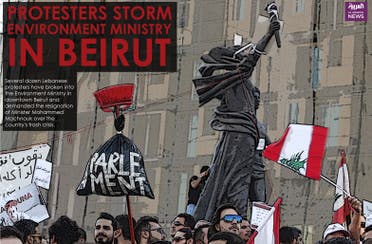 Protesters stormed the building earlier, demanding the resignation of Environment Minister Mohammed Machnouk over the country's trash crisis.
The group posted a video of themselves sitting on the floor, shouting slogans against Machnouk.
"Out, out, out," they shouted during the protests Tuesday.