Egypt's 'zero schoolgirl' demands independent probe
Mariam Malak, a schoolgirl who became an anti-corruption icon in Egypt, called for an independent probe into her case at a press conference
The lawyer for Mariam Malak – a schoolgirl who became an anti-corruption icon in Egypt after receiving a zero grade on her final high school exams – called for an independent probe into her case at a press conference Thursday.
Malak, 19, gained media attention after surprisingly failing her final exams although she had scored 97 percent in her previous two years.
The pupil claims her exam papers were replaced with someone else's and that the handwriting on the papers is not hers.
Egypt's prosecution ruled the handwriting was indeed hers.
Speaking at a press conference Thursday, Malak said the prosecution's investigation had not delivered her "rights."
Malak's lawyers said her exam answers had been switched, possibly with those of another student who was not doing well and could be the child of an influential person.
Al Arabiya News spoke to Malak's brother, who said his family is urging President Abdel Fattah el-Sisi to swiftly intervene in his sister's case.
"We call on the president to swiftly intervene and to allocate an independent panel of experts [to look into the case]," Mina said.
"The handwriting attributed to Mariam is drastically different from hers," Mina said.
"People are convinced that she is a victim."
Mariam has met former Prime Minister Ibrahim Mahlab amid a nationwide campaign calling for a probe into her results.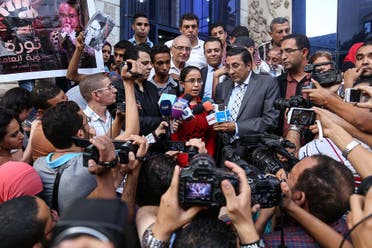 Hoping to study medicine like her two older brothers, Mariam has the chance to continue her tuition abroad.
"She received a couple of scholarship offers to study abroad…She has not rejected, any but no decisions will be made at this stage," he said.
Mina said it was still essential to prove that his sister was a victim of "corruption."
Egypt's education ministry said a handwriting test showed that the handwriting on the exam papers belonged to Mariam.
However, a handwriting test performed by Mariam on Egyptian television which showed that her handwriting was remarkably different.
(This article included information from Agence France-Presse)