15 civilians dead in Syria regime raids on ISIS-held city
The Syrian regime military aircraft fired missles at a market place in the city of Mayadeen killing civillians, and injuring others
Fifteen civilians, including five children, were killed in regime air raids on a popular market in a militant-held city of eastern Syria on Monday, a monitoring group said.

"Regime military aircraft fired at least two missiles at a busy souk in the city of Mayadeen, killing 15 civilians including five children and three women," said Rami Abdel Rahman, head of the Syrian Observatory for Human Rights.

He said at least 50 others were wounded in the raids on Mayadeen, located in Syria's oil-rich Deir Ezzor province and held by militants from the Islamic State of Iraq and Syria group (ISIS).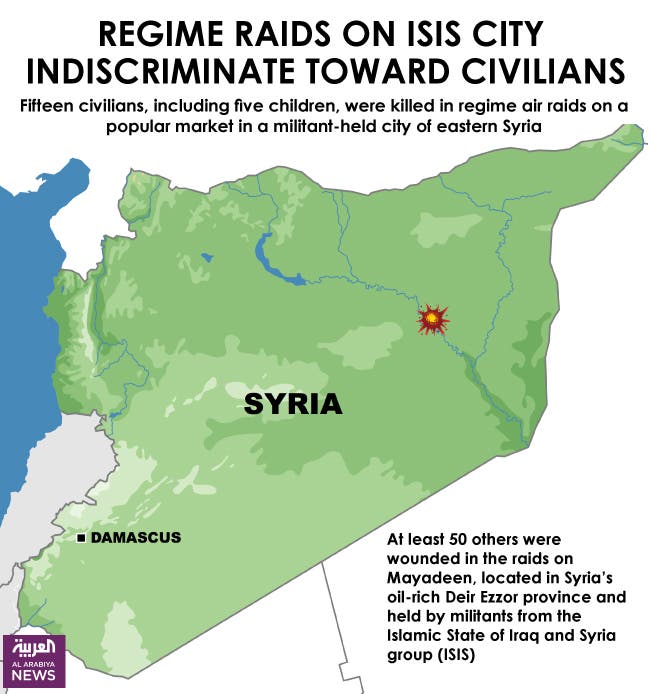 On Sunday, the Observatory reported that ISIS had shut down playgrounds in Mayadeen "under the pretext that there was mixing between men and women bringing their children to play".

The ultra-radical organisation has imposed its extreme interpretation of Islam in areas under its control across swathes of Syria and Iraq.

Regime air strikes on Sunday also killed four civilians in Kfarbatna, a town in the rebel bastion of Eastern Ghouta near Damascus, the Observatory said.

And two people died inside the capital itself when opposition fighters fired shells onto the Adwa district, Syria's official news agency SANA said.