Afghan forces retake control of Kunduz from Taliban
Afghan forces retook control of Kunduz after a three-day Taliban occupation
Afghan forces retook control of the strategic northern city of Kunduz on Thursday after a three-day Taliban occupation that dealt a stinging blow to the country's NATO-trained military.

The fall of the provincial capital, even temporarily, highlights the stubborn insurgency's potential to expand beyond its rural strongholds in the south of the country.

Afghan forces, hindered by a slow arrival of reinforcements but backed by limited U.S. air support, struggled to regain control of the city after three days of heavy fighting.

But on Thursday Afghan forces managed to reach the centre of Kunduz where the streets were littered with Taliban bodies, Kunduz residents told AFP, adding that fighting was still ongoing in parts of the city.

"(Afghan) special forces now control Kunduz City, it is retaken and being cleared (of) terrorists, heavy caU.S.ality to the enemy," interior ministry spokesman Sediq Sediqqi said on Twitter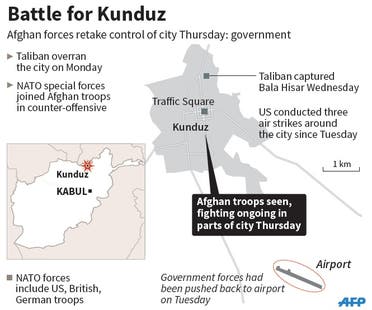 Deputy Interior Minister Ayoub Salangi said the city had been recaptured after a "special operation" overnight.
Local residents reported deafening overnight bombardments, adding that the Taliban were still resisting Afghan forces in some parts of the city.
"Afghan soldiers took down the white-and-black Taliban flag in the city square and hoisted the government flag," Kunduz resident Abdul Rahman told AFP.
The stunning fall of the city sent thousands of panicked residents fleeing as insurgents erected checkpoints across the city and were seen racing stolen police, U.N. and Red Cross vehicles.

The Taliban incursion into Kunduz, barely nine months after the NATO combat mission concluded, raised troubling questions about the capabilities of Afghan forces as they battle the militants largely on their own.