Hollande to Putin: Russia to strike 'only' at ISIS
Russia bombed Syria for a third day on Friday, hitting areas held by rival rebels rather than ISIS militants
France's President Francois Hollande said on Friday he had told Russian counterpart Vladimir Putin he must strike at "Daesh (Islamic State of Iraq and Syria) and only Daesh" during Russian military action in Syria.

Hollande was speaking after meeting Putin on Friday ahead of talks on the future of Ukraine, where the two men were joined by German Chancellor Angela Merkel and Ukrainian President Petro Poroshenko.

"What I told President Putin was that the strikes should concern Daesh and only Daesh. On that basis we have to hold everyone to their responsibilities," Hollande said after the meetings in Paris.

He said no link was made during the four-way talks between the situation in Ukraine and the one Syria.
Hollande and Putin had an in-depth discussion on Syria on Friday in which they "tried to narrow down differences on political transition," an aide to Hollande said after the two met in Paris.
The aide did not say if they had succeeded in any way in the 1h15-minute conversation, which took place ahead of a meeting the two men will have with the leaders of Germany and Ukraine aimed at resolving the Ukraine crisis.

They discussed the three conditions required by France for cooperation with Russia in Syria, the aide said. Those are: attack ISIS and Al-Qaeda and no other targets, ensure the safety of civilians, and put in place a political transition that will see the departure of Russia's ally Syrian President Bashar Al-Assad.

Both Hollande and Putin looked stern and frosty-faced as the French leader welcomed his Russian counterpart in the yard of the Elysee palace, exchanging a couple of terse handshakes in front of photographers and cameramen.
Obama to give address on Syria
President Barack Obama will take questions from reporters Friday, the White House said, as U.S. policy on Syria faces new challenges from an assertive Russia.
Obama will make a cabinet nomination announcement at 1930 GMT, and will then take questions from the press, the White House said.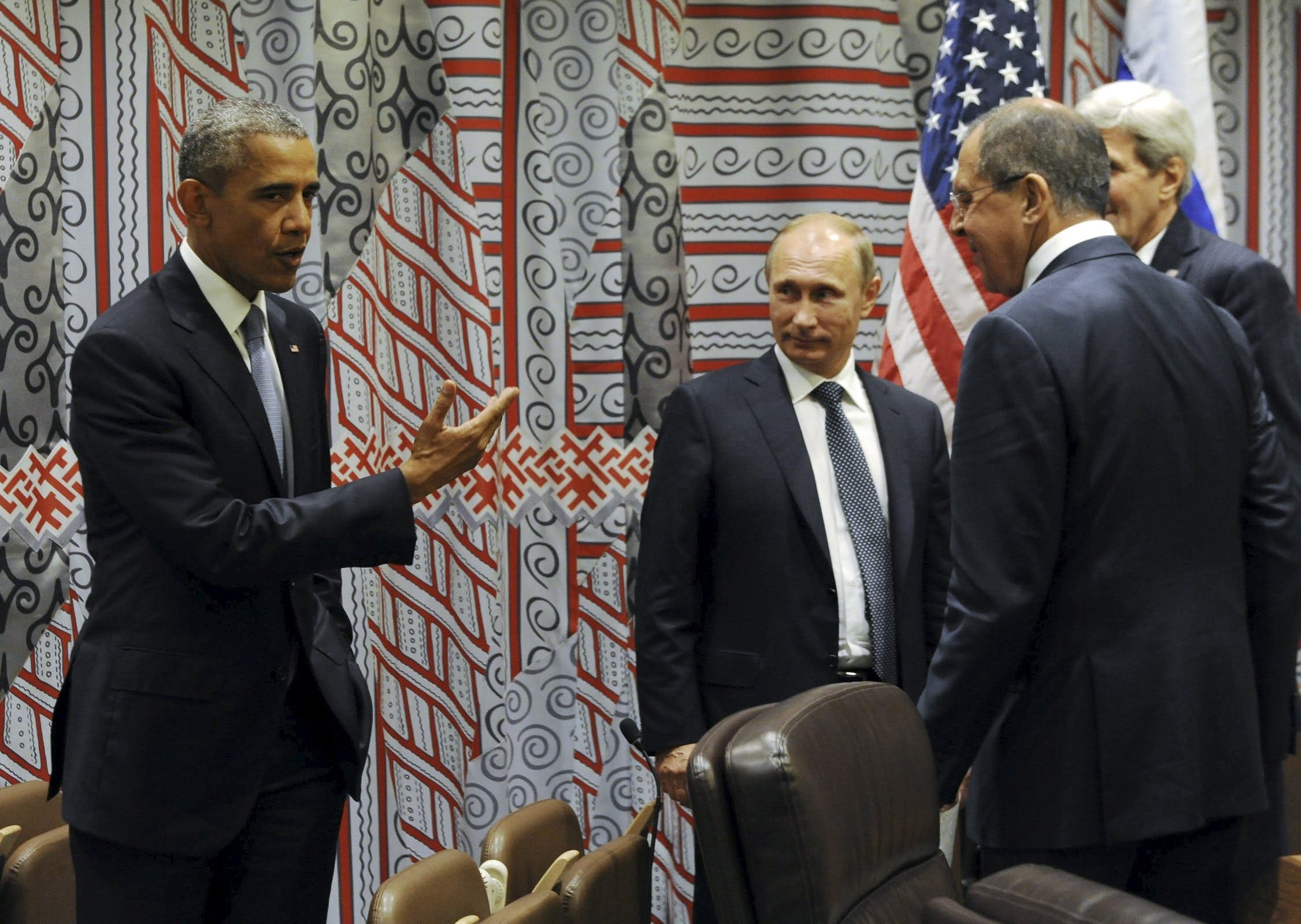 Russia bombs Syria for 3rd day
On Friday, Russia conducted six air strikes against ISIS targets on Friday, the defense ministry said, on the third day of its intervention in the war-torn country.
"Six strikes were conducted on targets of the ISIS terrorist group in 14 flights by Sukhoi Su-34, Sukhoi Su-24M and Sukhoi Su-25 jets," the defence ministry said in a statement.
Russia was criticized for mainly hitting areas held by rival insurgent groups rather than ISIS militants it said it was targeting.

Washington, which is leading its own air campaign against ISIS, says Moscow has been using its campaign as a pretext to hit other groups opposed to Russia's ally, President Bashar al-Assad.

Some of the groups that have been hit are supported by countries which oppose both Assad and Islamic State, including at least one group that received training from the CIA.

However, Moscow said on Friday its latest strikes had hit 12 ISIS targets, but most of the areas it described were in parts of the country where the militant group has little or no sway.
Russian raids to last 4 months
Meanwhile, Russian air strikes in Syria will last for three to four months and will intensify, a senior Russian lawmaker said Friday as Putin was due in Paris for talks.

"There is always a risk of getting bogged down but in Moscow they're talking about three to four months of operations," Alexei Pushkov, the head of the foreign affairs committee of Russia's lower house of parliament, told France's Europe 1 radio.

Pushkov said more than 2,500 air strikes by the U.S.-led coalition in Syria had failed to inflict significant damage on the jihadist Islamic State group, but Russia's campaign would be more intensive to achieve results.

"I think it's the intensity that is important. The U.S.-led coalition has pretended to bomb Daesh (another name for ISIS) for a year, without results.

"If you do it in a more efficient way, I think you'll see results," he said.

Pushkov refuted suggestions from Western nations that Russian planes were mainly bombing not ISIS jihadists, but rebel groups opposed to Syrian President Bashar al-Assad.

"The main target are the Daesh groups situated closest to Damascus," Pushkov said.

"We need to eliminate this group or at least neutralize it and afterwards we'll see what Syria's future is," he said.
Putin is due to hold talks with Hollande to discuss Syria before attending a summit also involving the leaders of Ukraine and Germany aimed at consolidating the fragile peace in Ukraine.