Russia is 'ready' to begin contacts with Syrian rebels
In televised comments, Putin said Russia's air force will support offensive operations by Syrian govment forces on ground
Moscow said on Wednesday it was ready to establish contacts with Syria's Western-backed moderate opposition, the Free Syrian Army, battling against Russian-allied Syrian President Bashar al-Assad.

"At the president's request, the foreign ministry informs our partners in countries that have links to the Free Syrian Army of the Russian side's readiness to establish contacts with the leadership of this structure," the foreign ministry said in a statement.
Earlier in televised comments, Russia's air force will support offensive operations by Syrian government forces fighting on the ground in the war-torn country, Putin said Wednesday.
Russian efforts "will be synchronized with the actions of the Syrian army on the ground and the actions of our air force will effectively support the offensive operation of the Syrian army," Putin said in televised comments.
Infographic: Russia strikes rebel positions in western Syria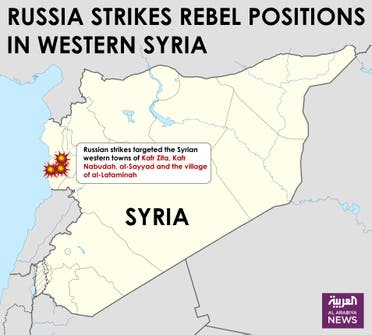 However, a military source told AFP that Syria's army and pro-regime forces have already launched a major ground operation on Wednesday in Hama province backed by air support from Russian warplanes.

"The Syrian army and allied forces began a ground operation in the northern parts of Hama province (central Syria)... with fire cover from the Russian air force," the source said.
The Syrian Observatory for Human Rights, a British-based group which tracks the conflict via a network of sources within the country also reported Wednesday that Russia and Syria carried out what appeared to be the first major coordinated assaults on Syrian insurgents.

Russia's air campaign in Syria, at a time when relations with the West are at a post-Cold War low over Ukraine, has caught Washington and its allies on the back foot and risks an incident between Russian and U.S. warplanes, now operating in the same country for the first time since World War Two.
On Wednesday, an aide to President Francois Hollande said the French leader did not suggest forming an alliance between Assad's forces and the moderate opposition Free Syrian Army, contradicting comments by made by Putin.
"The president spoke of the necessary presence of the Syrian opposition around a future negotiating table. The rest is not a French idea," a member of Hollande's entourage told reporters during a visit to Strasbourg.
Russian warships strike ISIS
Four Russian warships on Wednesday also struck at ISIS targets in Syria with cruise missiles, as Moscow ramps up its military campaign, Putin was told by his defence minister.

"In addition to the airforce, four warships of the Caspian flotilla have been involved," defence minister Sergei Shoigu said, adding that the warships carried out 26 cruise missile strikes against 11 targets.
Shoigu also said the "strikes have hit 112 targets from September 30 until today." He added: "The intensity of the strikes is increasing."
Earlier Wednesday, the Observatory said a wave of Russian air strikes in western Syria was being accompanied by a ground assault on at least four insurgent positions.
The ground attacks were being carried out by "regime forces," the Observatory said, a term it uses broadly to describe the Syrian military and allied local and foreign militia.
The Observatory said there were also heavy surface-to-surface missile bombardments.
Russia has courted controversy since their first wave of airstrikes hit Syria as they have been accused of attacking moderate rebels and civilians instead of ISIS militants.
At least 39 civilians, including eight children and eight women, have been killed in Russian air strikes in Syria during the first few days of when strikes were deployed.
Russia, a top ally of Assad, started carrying out air strikes in Syria last week, saying they were targeting hardline ISIS militants.
Russia's Wednesday strikes targeted the towns of Kafr Zita, Kafr Nabudah, al-Sayyad and the village of al-Lataminah in Hama province and the towns of Khan Shaykhun and Alhbit in Idlib, the Observatory said.
Most of Idlib province is held by an insurgent alliance that includes al-Qaeda's Syria wing Nusra Front and other factions and that has put pressure on the Syrian military.