Saudi king affirms support for Turkey anti-terror fight
King Salman bin Abdulaziz offered his condolences to President Erdogan after terror attacks in Ankara killed at least 95 people
Saudi Arabia's King Salman bin Abdulaziz on Sunday offered his condolences to Turkey's President Recep Tayyip Erdogan after terror attacks at a peace rally there killed at least 95 people and wounded more than 200.
In a telephone call between the two leaders, King Salman reiterated Saudi Arabia's solidarity with Turkey "in the fight against all forms of terrorism." the Saudi Press Agency reported.
The twin bombings -- the deadliest attack in modern Turkish history -- were set off by suspected suicide attackers in a crowd of leftist and pro-Kurdish activists at an anti-government peace rally.
The king also wish those injured a speedy recovery.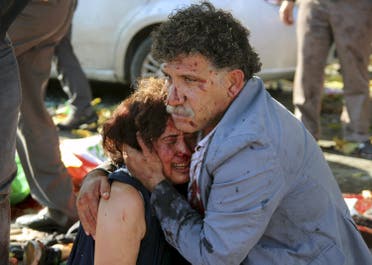 The attacks, near Ankara's main train station, left bodies of dead demonstrators strewn across the ground.

At least 246 people were also wounded, dozens of whom were hospitalized in intensive care, according to Prime Minister Ahmet Davutoglu's office.
Meanwhile, U.S. President Barack Obama also offered his condolences to Erdogan after the terror attacks..

"The president conveyed his deepest personal sympathies for those killed and injured in these heinous attacks, and affirmed that the American people stand in solidarity with the people of Turkey in the fight against terrorism and shared security challenges in the region," the White House said in a statement.

Footage screened by broadcaster CNN Turk showed a line of young men and women holding hands and dancing, and then flinching as a large explosion flashed behind them, engulfing people carrying HDP and leftist party banners.
"Like other terror attacks, the one at the Ankara train station targets our unity, togetherness, brotherhood and future," said Erdogan, who has vowed to crush a Kurdish militant insurgency since the collapse of a ceasefire and resumption of intense violence in July.
Witnesses said the two explosions happened seconds apart shortly after 10 a.m. as crowds, including HDP activists, leftists, labour unions and other civic groups, gathered for a planned march to protest over the deaths of hundreds since conflict resumed between security forces and the Kurdistan Workers Party (PKK) in the mainly Kurdish southeast.
"I heard one big explosion first and tried to cover myself as the windows broke. Right away there was the second one," said Serdar, 37, who was working at a newspaper stand in the train station. "There was shouting and crying and I stayed under the newspapers for a while. I could smell burnt flesh."

(With AFP and Reuters)