Tunisia's Nobel Prize in the making for four years
Asma Cherifi decided to dedicate herself to "do whatever possible" to make her country win the Nobel Peace Prize
A Tunisian quartet coalition of labor union leaders, businesspeople, lawyers and human rights activists won this week the Nobel Peace Prize, but it is not the first time that Tunisia is linked to the prestigious international award.

In 1928, Charles Jules Henry Nicolle, a French bacteriologist who was based in Tunisia received the Nobel Prize in Medicine for his identification of lice as the transmitter of epidemic typhus.

Nicolle, who spent most of his life in Tunisia, died and was buried at the Pasteur institute in Tunis.

While many Tunisians were feeling honored by their country's effort in Nicolle's award, 87 years later, many others are proud of a purely Tunisian achievement.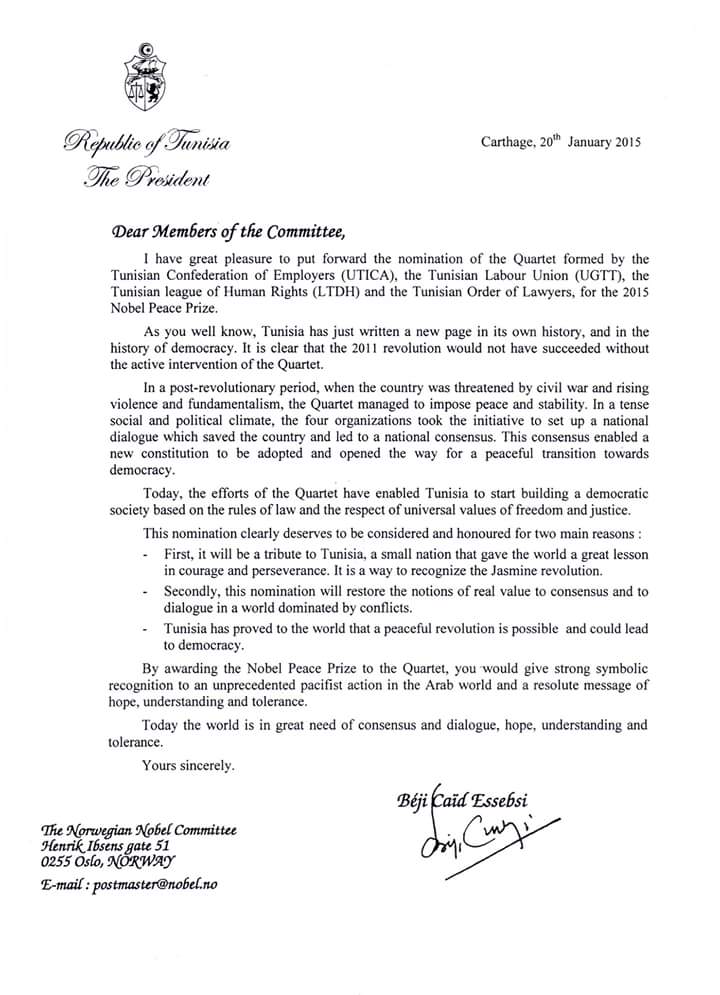 On Friday, the Nobel committee said in its announcement that the quartet was awarded for "its decisive contribution to the building of a pluralist democracy in Tunisia in the wake of the Jasmine Revolution of 2011."

But that year, while Tunisia was shaking following the collapse of its constitutional structures, a group of Tunisians was desperatly trying to provide aid to hundreds of thousands of Arab and African immigrants who had fled Libya in the wake of the uprising against Libyan Dictator Muammar Gaddafi.
Whatever possible
Among the group, Asma Cherifi, who decided with some of her colleagues to dedicate themselves to "do whatever possible" to make their country win the Nobel Peace Prize.
Speaking to Al Arabiya News, Cherifi said: "It was the least that Tunisia deserves. Our country did not only succeed in showing the dignity road for others, but, despite it is a tiny one and amid a lot of troubles it managed to welcome, almost without any help from the world, hundreds of thousands of refugees. Not only that, Tunisia took the road for freedom with confidence."

The Arab Spring originated in Tunisia in 2010 and 2011, but it quickly spread to other countries in North Africa and the Middle East," Kaci Kullmann Five, the chairwoman of the committee, who announced the prize in Oslo, said.
"In many of these countries, the struggle for democracy and human rights has come to a standstill or suffered setbacks," she said.
"Tunisia, however, has seen a democratic transition based on a vibrant civil society, with demands for respect for basic human rights," she added.
From 2011 to 2015
The quest for Nobel started in 2011, according to Cherifi who, with her friends, created an initiative "Tunisia4nobelprize" and launched a global campaign.
In 2011, it was late, according to Cherifi to achieve that goal, however "we started meeting the potential candidates starting from 2012 in order to coordinate efforts and to gain more focus."

She added: "we were optimistic on 2012 to be awarded, however, when we have seen, that Tunisian individual candidatures were in vain, we decided to think about something more solid."

On her Facebook page, on the 20 February 2013, Cherifi wrote: "I am determined more than ever to get Tunisia awarded Nobel Peace Prize on 2015."

It was just two weeks after the assassination of the leftist leader Chokri Belaid who was killed on the 6 February 2013 which swamped the country in a very tough period unseen since its independence.

According to the former Lawyers order's president Chawki Tbib, the official statement of The Norwegian Nobel committee, included a mistake.
"It says that the dialogue and the work of the quartet started in October 2013. It is false, as it started one year before that. And It was the idea of Chokri Belaid himself. After his assassination, The Lawyers Order, (his association as he was lawyer himself) Labor Union, and Human right League decided to go ahead with his idea and it worked."

Cherifi and her group, who gained wide support, suggested to present a collective candidature which includes the Labor Union's president Hussein Abbassi, the then president of republic Moncef Marzouki, the then former Prime Beji Caid Essebsi (as opposition leader), and the Islamist leader Rashid Ghannouchi.

"We managed to meet Abbassi and he welcomed the idea. We did not receive a response to our attempts from Essebsi and Ghannouchi, however Marzouki told us he is not interested," she said.
Collective candidature
Seaprately, prominent Tunisian journalist Safi told Ifm Radio, who was taking part of the initiative, said that he managed to meet both President Beji Caid Essebsi and Mohamed Moncef Marzouki.
"[Essebsi] told me he would prefer the prize to be awarded to the whole country while Marzouki refused the idea of the collective candidature saying that he prefer to be the sole candidate."

Commenting on Safi's statements, Tarek Kahlaoui, one of Marzouki's advisors, told Al Arabiya news that: "Marzouki never had, and does not have any desire for an individual candidature and he congratulated the Quartet because he sees the prize as an award to the Democratic Tunisia."
Meanwhile, Essebsi called the award a triumph of negotiation over violence and said that "Tunisia had no other solution but dialogue."
"We are facing a war against terrorism, and we can't win unless we stay together," he said in a Facebook post.

In January, Essebsi had sent a letter to members of the Norwegian Noble Committee to put forward the nomination of the Quartet of the National Dialogue for the 2015 Nobel Peace Prize.

Tunisia seems to have accomplished its mission despite having a long way to go. Tunisians are aware that more still needs to be done for their country.
"We are motivated more than ever now, with this award, and we are now launching the next phase of our initiative: GO TUNISIA 2030," Cherifi said.