Saudi FM: U.S. support of Gulf at 'record high'
In August, the U.S. navy announced that it pull its sole aircraft carriers out of the Gulf this fall
Saudi Arabia's Foreign Minister Adel al-Jubeir said on Saturday that U.S. support of the Gulf is at an "all-time high" when asked by Al Arabiya News to comment on the absence of aircraft carriers in the region.
"The relationship with the U.S. in the strategic sense has not changed. The American presence in the region has in fact increased, whether aircraft carriers have been withdrawn or not. The number of American troops and forces in the region is almost at a record high," Jubeir said.

In August, the U.S. navy announced that it pull its sole aircraft carriers out of the Gulf this fall – leaving the region without a naval strike force for the first time in seven years.

The decision came at a sensitive time, as Western powers struck a deal with Iran on curbing Iranian nuclear ambitions through a nuclear deal that would see economic sanctions being lifted.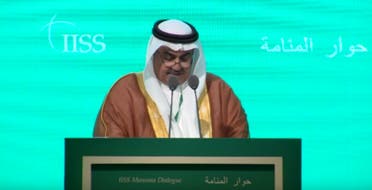 Jubeir said that Saudi Arabia - and by extension the GCC - was not worried by the U.S. decision.

"The decisions that were arrived at between the Gulf countries and the U.S. with regards to military cooperation, intelligence sharing, cyber security, ballistic missile defense are all working. The agreement was made between the leadership of GCC leaders with President Obama to intensify efforts in those areas and they're ongoing as we speak," he said.

The top Saudi diplomat said that the U.S. support for the region should not be measured by naval presence alone. "I wouldn't measure it by aircraft carriers leaving the Gulf or not. We've had situations in the past where we were left with only one or two carriers but U.S. ships and aircrafts are still available."
During the same conference, U.S. Deputy Secretary of State Antony Blinken said that the region is "home to some of our oldest allies."
"President Obama made it clear that defending them against aggression has been, is and will always remain a core national interest of the United States," he added.
Jubeir was speaking at the 11th Manana Dialogue in Bahrain, a conference held by the UK-based International Institute for Strategic Studies think-tank.

Iran's activities in the region was a hot topic in the sessions, where Arab diplomats including Bahrain's Foreign Minister Sheikh Khalid bin Ahmed al-Khalifa and Secretary General of the Arab League Nabil Elaraby voicing similar views.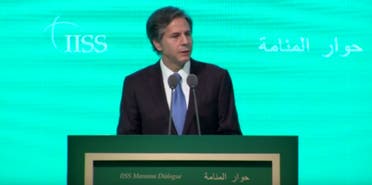 "Iran is at a crossroads, and it's their choice where they can either choose to have a major shift in their foreign policy and move to phase two of fixing their relationships with the world after their nuclear deal and hopefully it will succeed," Sheikh Khalid said.

"Or else they can continue on their current policies that don't bring them any stability and continue to send the wrong messages not only to their neighbors but also to their people," Bahrain's top diplomat said.

Asked on the status of a joint Arab military force, proposed in May this year by Arab League states, Elaraby said it "was a legitimate question."

"There were meetings where we had at least 17 chiefs of staffs from across the Arab world, something that has never happened before," Elaraby said.

Elaraby said that with the proposed forces, military units would not be stationed in one base or country. "Every country will have their own barracks under each [of their] own jurisdictions. A protocol was worked out which most, if not all, countries agreed on. The general idea of that was that such a force could be used in rapid deployment," he said.

He also added that a joint council made up of the ministers of defense and foreign ministers of each country would take any decisions taken by the joint Arab military force in the future.
Syria's future and countering Iran
Jubeir made his trip to Bahrain's capital Manama only hours after meeting with 16 other foreign powers in Vienna - including the U.S., Iran and Russia - who collectively called on Friday for a nationwide truce in Syria's civil war, a renewal of stalled U.N.-brokered talks between the government and opposition forces, and fresh elections.

It was announced that another meeting would be held in two weeks to determine the future of Syrian President Bashar al-Assad.
Saudi FM is open about his country's support of lethal weapons for the Syrian opposition to fight Assad. U.S. not so much. #MD2015

— Josh Rogin (@joshrogin) October 31, 2015


"On Syria, the issue has to do with determining a new leadership other than Assad. That is the main objective as we see it," Jubeir said. He also reiterated the importance to focus both on Assad's departure and the removal of foreign forces in Syria as well.

"The idea here is to ensure the departure of Assad doesn't create a collapse of the state and a political vacuum," he said.

Asked what alternatives Syria has should a political solution fail in the coming months, Jubeir said that Saudi would aid the moderate Syrian opposition with "more lethal weapons to fight the Assad regime."
#MD2015 KSA ForMin @AbdelAlJubeir says the earlier Bashar leaves, the better, "ideally this afternoon"

— François Heisbourg (@FHeisbourg) October 31, 2015
When asked during what time frame Assad should leave, he said: "Ideally he should leave this afternoon. The sooner the better and we can all move in help building a new Syria."