Libya U.N. envoy to be replaced by German official
U.N. Secretary-General Ban Ki-moon notified the 15-member council in a letter of his intention to replace the current envoy Bernardino Leon
The United Nations Security Council on Friday approved the appointment of German U.N. official Martin Kobler as the new U.N. special envoy to Libya, said diplomats, though it was unclear when he would take over mediating stalled peace talks.
U.N. Secretary-General Ban Ki-moon notified the 15-member council in a letter, seen by Reuters, of his intention to replace the current envoy Bernardino Leon with Kobler. But the letter did not specify when Kobler would take up the role.
A senior U.N. diplomat, speaking on condition of anonymity, said Leon was currently due to leave on Nov. 6, but that could be extended if there was a sudden breakthrough in his mediation efforts.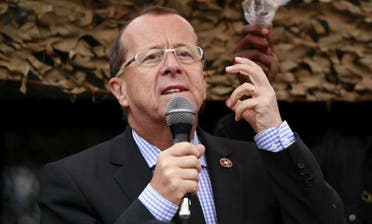 Libya has fallen into turmoil with its internationally recognized government and elected parliament on one side and a self-styled administration holding Tripoli on the other, each backed by regional, tribal or Islamist armed factions.
After months of negotiations, Leon has presented Libya's rival factions with a proposed national unity government, but hardliners on both sides have resisted the power-sharing deal and talks are at a standstill.
The conflict has pushed the North African state to the brink of collapse four years after the fall of longtime leader Muammar Qaddafi. The chaos has allowed ISIS militants to gain a foothold in the country.
Leon said last week consultations continued with both sides and warned small factional leaders not to obstruct attempts to create a unity agreement and peace deal.
Kobler is no stranger to tough U.N. jobs. He most recently headed the U.N. peacekeeping mission in the Democratic Republic of the Congo, and has also been the U.N. special envoy to Iraq and deputy U.N. representative in Afghanistan.