British FM Philip Hammond says it's 'business as usual' with Saudi Arabia
Despite recent media reports of tension between Riyadh and London, British FM says the working relationship is deep rooted
British Foreign Minister Philip Hammond has said his country's working relationship with Saudi Arabia is deep rooted and strong, despite recent media reports of tension between Riyadh and London.
In a special interview with Al Arabiya News at the 11th annual International Institute for Strategic Studies (IISS)'s Manama Dialogue, which concludes today in the Bahraini capital, Hammond described the status of British-Saudi relations as "business as usual."
The United Kingdom has recently withdrawn a £5.9 mln prisons contract that would have provided a "training needs analysis" for Saudi prison service staff.
Also in recent weeks, observers have noticed intensified critical coverage of Saudi Arabia by a number of British media outlets, in which some pundits had repeatedly called for further cancelations of business contracts and a revision of the overall relationship between the two countries.
In response, Prince Mohammad bin Nawaf – the Saudi Ambassador to the United Kingdom - wrote a scathing op-ed published in The Daily Telegraph warning of an "alarming change" in Britain's attitude towards Saudi Arabia after what he described as "breaches in mutual respect."
However, Mr. Hammond had spent some time in Riyadh last week where he met with Saudi King Salman bin Abdulaziz, along with the Crown Prince Mohammad bin Nayef and Deputy Crown Prince Mohammad bin Salman.
He also held lengthy discussions with Saudi Foreign Minister Adel al-Jubeir, first during the Syria peace talks in Vienna and then again yesterday at the Manama Dialogue conference.
During those meetings, Mr. Hammond said he sought reassurances from Saudi Arabia that "he wasn't missing anything," and that he received reassurances that the relationship was "excellent" and that "there was no problem at all."
"I wouldn't have had a 45-minute audience with the king otherwise," the British FM told Al Arabiya News.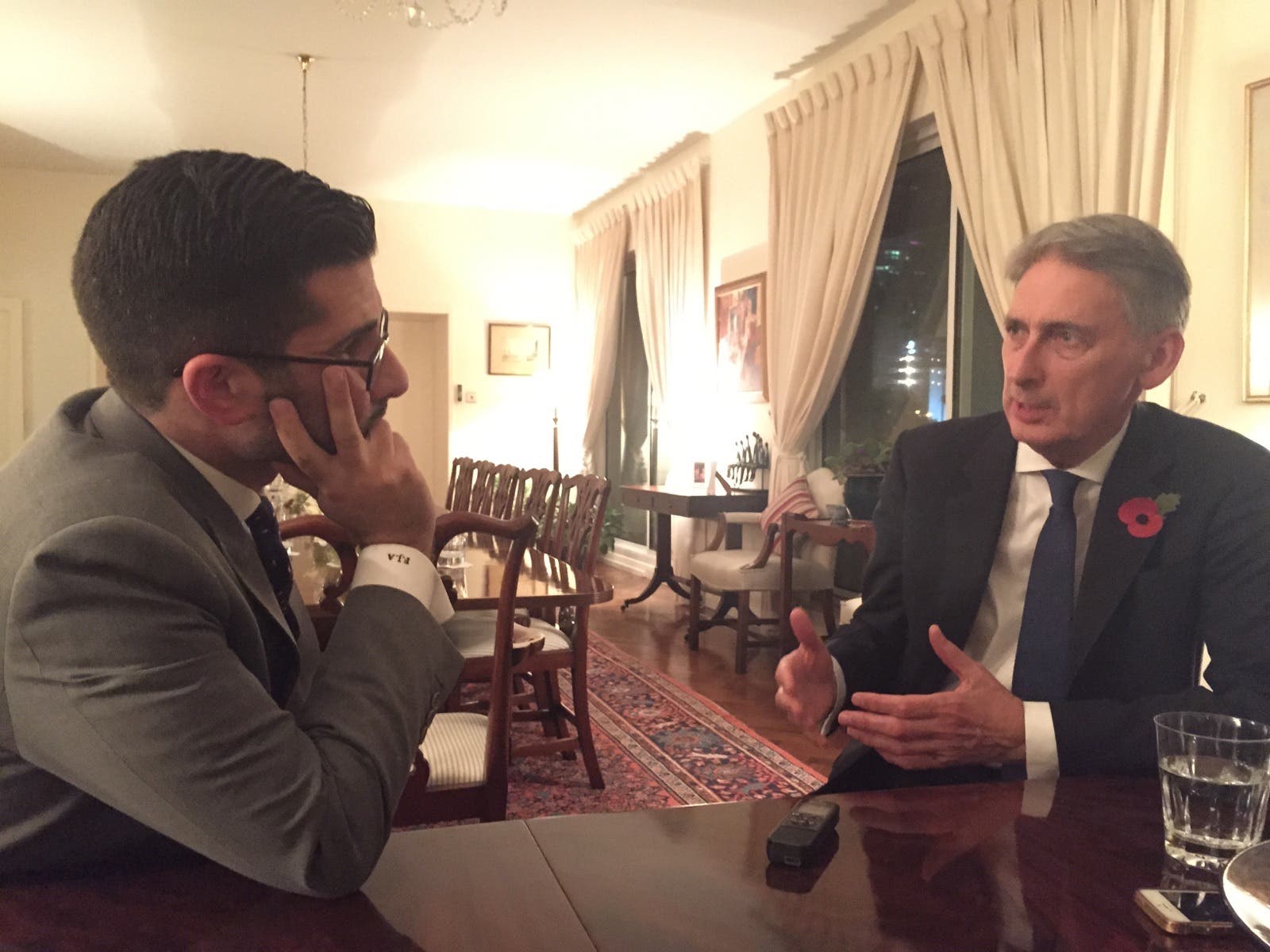 As for the recently cancelled prison training deal, Hammond explained that Justice Secretary Michael Gove had made a decision not to continue the process – because he did not want to divert resources from his department to overseas work.
"The new Justice Secretary wanted to concentrate on reforms of prisons in the UK, where we actually have a big problem including the one of radicalization by extremists.
"It is no secret that I and others argued that even though this wasn't in accordance with his (Gove's) departmental agenda, we would have preferred for the contract with Saudi Arabia to have been entered into as a sign of good faith.
"We didn't win that argument and we pulled out of the contract. It is an irritation to our Saudi partners and I understand that as foreign minister," he added.
We support each other in security, we work together on cyber, counter-terrorism, defense collaboration, we support each other's security, supported the Saudi-led coalition in its actions in defense of the Yemeni government
British Foreign Minister Philip Hammond
However, Hammond emphasized that the British-Saudi relationship is "deep rooted and broad-ranging" adding that such a relation will "not be brought down by one small contract that we decided we couldn't go ahead with."
"It is business as usual, and the reason we do business together (with Saudi Arabia) is because it's in our mutual best interest. We support each other in security, we work together on cyber, counter-terrorism, defense collaboration, we support each other's security, supported the Saudi-led coalition in its actions in defense of the Yemeni government,' he added.
Iran deal
During his speech at the Manama Dialogue, Mr. Hammond reiterated his country's commitment to ensuring Gulf security, and his government's determination to combat violent extremism (CVE) at home, arguing that there should be no tolerance for intolerance.
This prompted a question on whether or not the UK's commitment extends to countries that support terrorism, specifically Iran which has long been criticized for nurturing state-funded groups such as Assaib Ahl al-Haq (AAH) in Iraq and Hezbollah in Lebanon (in addition to the atrocities committed by both these terrorist entities, they have both previously been responsible for either the killing or kidnapping of British citizens), as well as backing the Houthis in Yemen (where the UK supports the Saudi coalition to restore the legitimate government of President Abdrabbu Mansour Hadi).
Earlier this year, the United Kingdom – as part of the P5+1 bloc – signed a deal with Iran to curb Tehran nuclear weapon ambitions in exchange for the lifting of the long-imposed international economic sanctions.

Several aspects of the nuclear deal had irked Saudi Arabia and other long-term British allies in the region, as it raises concerns that Tehran (which according to a recent U.S. government report, already spends between $14 bln and $30 bln annually on supporting regional terrorist activities) will use the newly injected cash into its economy to cause further upheaval and turmoil in the region.
Last September, Britain's second most powerful man, George Osborne – the Chancellor of the Exchequer – announced that he would personally "love to lead" a UK trade delegation to Iran next year. This came shortly after Tehran reopened its embassy in London.
Recent reports have also estimated that nearly $1 bln will flow into Iran in the first year after sanctions are lifted.
For his part, Hammond explained that the CVE program is about vulnerable individuals and is focused on internal issues within his country. However, he acknowledges that there is an issue with Iran's regional conduct and that this is unlikely to change in the short-term.
"We know that Iran's behavior in the region continues to be challenging and we hope that, over time as Iran opens up to the world with sanctions coming off, we will start to see a different behavior. But it's not going to happen overnight, it's going to take time," Hammond said.
On what specific measures could be taken to avoid any future misdirection of Iranian funds to unfavorable non-state actors in the region, Hammond said:
"If Iran continues to support terrorism, then it's open to the states of the United Nations to take separate actions about that, but that is different from the actions we took over Iran's illegal nuclear program."