Hunt for Paris attackers ongoing as two are charged
European authorities are on the hunt for suspects connected to the attacks, the deadliest France has seen since WWII
Belgian authorities have charged two people who were arrested after the Paris attacks with involvement in terrorism, prosecutors said Monday.

The pair were charged "with a terrorist act and participation in the activities of a terrorist group," while five others detained at the weekend were freed without charge, the prosecutor's office said in a statement.

It did not give the names of the people who were charged.

One of those released was Mohamed Abdeslam -- whose brother Brahim took part in the attacks and whose other brother Salah is being hunted by police.

The prosecutors confirmed that a major police raid in Brussels on Monday aimed at arresting Salah Abdeslam had ended without anyone being detained.
'Mastermind' may have been in identified
A Belgian national currently in Syria is believed to be behind Friday's attacks in Paris, a source close to the French investigation told Reuters news agency earlier on Monday but Belgian authorities branded the report as a "rumor."
"Those are rumours, it's not confirmed at all and we won't comment on this," Brussels prosecutor Eric Van Der Sypt told Reuters.

"He appears to be the brains behind several planned attacks in Europe," the source told Reuters of Abdelhamid Abaaoud, adding he was investigators' best lead as the person likely behind the killing of at least 129 people in Paris on Friday.

According to RTL Radio, Abaaoud is a 27 year-old from the Molenbeek suburb of Brussels, home to other members of the militant Islamist cell that carried out the attacks.

In February of this year, ISIS's online magazine Dabiq carried an interview with an Islamist bearing that name and boasting of having traveled through Europe unnoticed by security forces to organize attacks and procure weapons.

Abaaoud was also named in various media last year as the elder brother of a 13-year-old boy who left Belgium to become a child-fighter in Syria.
Belgian, French police on hunt for attackers
Belgian police launched a major new operation on Monday in the Brussels district of Molenbeek, where several suspects in the Paris attacks had previously lived, AFP journalists said.

Dozens of armed police, some wearing balaclavas, stood in front of a police van blocking a street in the run-down area of the capital, the site of a number of arrests following the attacks in France which killed 129 people.

Police issued a warning over a loudspeaker to residents, AFP reporters said, while Belgian media reported that officers had surrounded a house and were telling the occupants to come out.

Belgian prosecutors had no immediate comment on the raid.

One prosecutor confirmed however that Belgian authorities had extended the detention period for seven arrested suspects until Monday night.

Attacker Ibrahim Abdeslam, a Belgium-based Frenchman who blew himself up outside a bar on Boulevard Voltaire, was from Molenbeek.

French police have launched an international manhunt for Abdeslam's Brussels-born brother Salah, who is also said to be linked to the Paris attacks.
French authorities carried out nearly 170 searches and arrested 23 people in raids overnight Sunday, the interior minister said adding that more than 100 people have been placed under house arrest.

A total of 31 weapons were seized, Bernard Cazeneuve added, with sources telling AFP they included a rocket launcher and a Kalashnikov rifle found near the southeast city of Lyon.
Second bomber identified
The body of a second suicide bomber involved in the Paris attacks was identified on Sunday, sources close to the investigation said, although it was unclear whether he was French or Belgian.
Both sources said he was one of three brothers involved in the attacks, and that his body was found at the Bataclan concert hall, the scene of the worst carnage where 89 people were gunned down.
Belgium issued an international arrest warrant on Sunday for a man suspected to have taken part in the Paris killings.
French and European authorities are on the hunt for suspects connected to the attacks, the deadliest France has seen since WWII.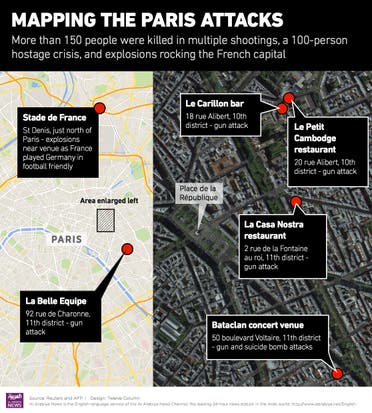 The suspect lived in the Brussels neighbourhood of Molenbeek, the source added.
Eariler on Sunday, police said a black Seat car used by gunmen who fired at people in restaurants during the attacks in Paris on Friday has been found in the eastern suburb of Montreuil.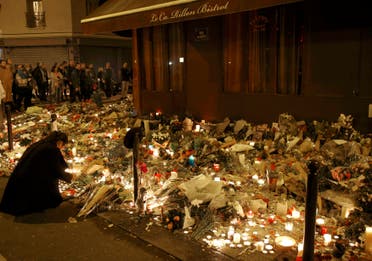 Six people close to Omar Ismail Mostefai, who took part in the killings at the Bataclan concert hall and the first of Friday's attackers to be identified, have been detained, including his father, brother and sister-in-law, judicial and police sources said.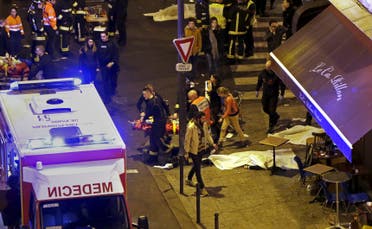 The body of the 29-year-old French national was found and identified at the Bataclan music hall where 89 people were shot dead Friday when three gunmen wearing suicide vests opened fire on spectators in the bloodiest of a string of attacks in Paris blamed on Islamists.
Read also: ISIS claims Paris attacks and releases video threat
Read also: Arab states condemn 'terrorist' Paris attacks
Opinion: Friday 13th: the price France had to pay for doing what's right!
Opinion: Paris must not do what Washington did after 9/11
France's worst ever attacks killed at least 129 people and left 352 injured, many in critical condition. Prime Minister Manuel Valls said Sunday that 103 bodies had been identified, with 20 to 30 more still awaiting identification.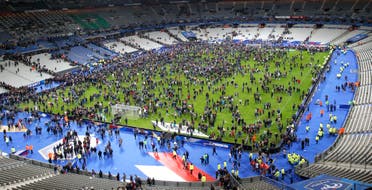 The Frenchman confirmed as one of the attackers was known to police as being close to radical Islam but had never been linked to a terrorism enquiry, Paris prosecutor Francois Molins said earlier Saturday.
He was identified via a severed fingertip.
Prosecutor Molins said seven gunmen were killed in the attacks, which were the work of three coordinated teams. Six of them blew themselves up while one was shot by police.
The attacks were claimed by extremist group ISIS, which France is targeting with airstrikes on Syria.