Torrential rain wreaks havoc in Jeddah and Makkah
Prince Khaled supervised field operations from Makkah's Crisis Center, traffic plans to ease congestion and the situation at the dams through cameras
Two people were killed on Tuesday when they were electrocuted by a downed lamp post in the Saudi coastal city of Jeddah, as severe thunderstorms forced schools and universities to suspend classes in Red Sea city and Makkah.
Schools will remain closed on Wednesday and Thursday also.

Two children are missing in the northwestern province of Hail, while a third child was rescued in a flooded valley there.

Emergency response crews advised residents to stay indoors as heavy rains pound areas along the Kingdom's Red Sea coastline.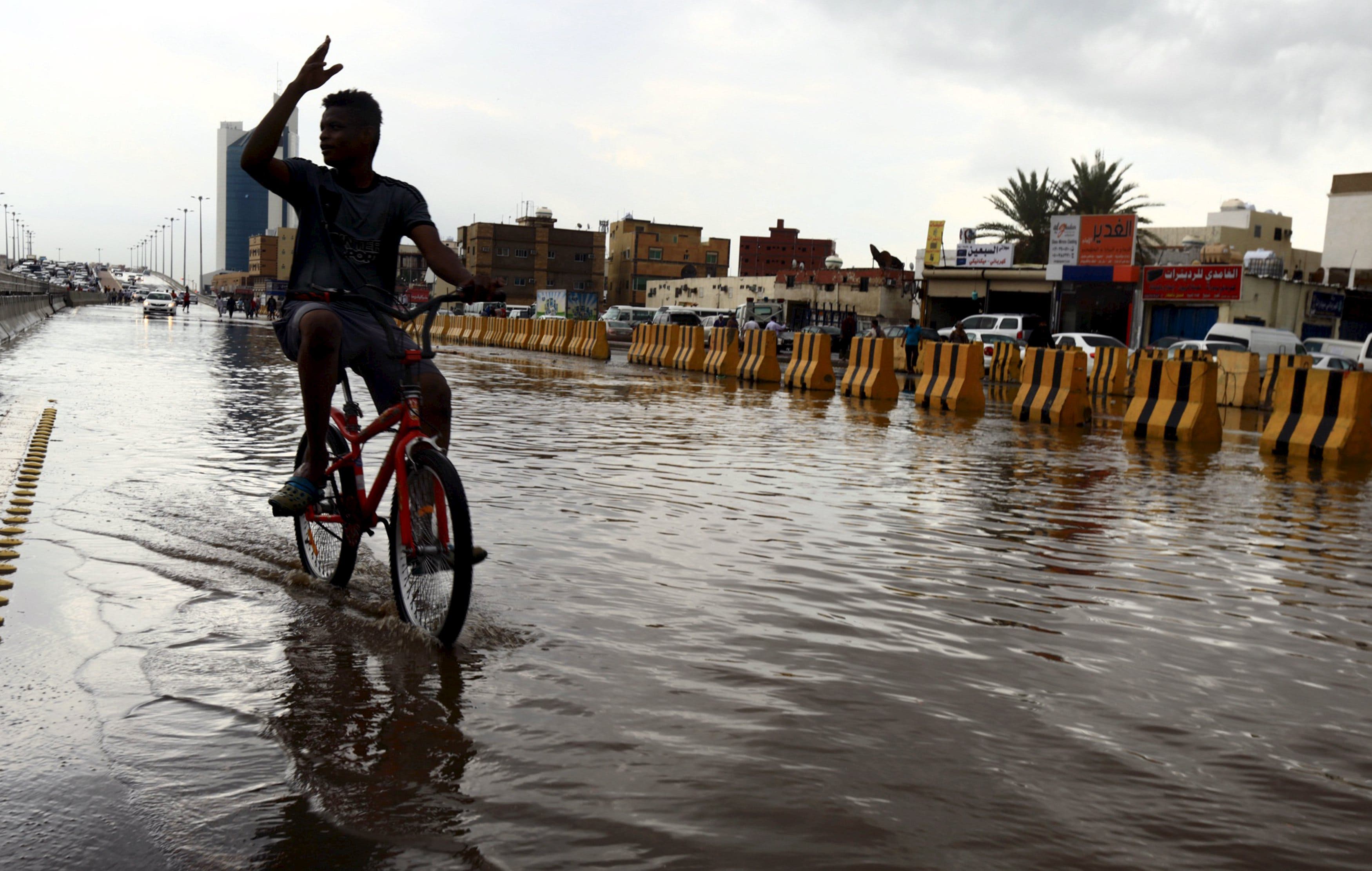 The Emir of Saudi Arabia's Makkah region, Prince Khalid al-Faisal, visited the Disaster and Crisis Management Center at the governorate to follow up on the measures to tackle the situation after heavy rain in various regions and governorates of the province.

Saudis took to social media to share videos and pictures of flooded streets and high winds, which are expected to last until Wednesday.

The Jeddah region received the highest level of 22 millimeters of rain on Tuesday. The Civil Defense has installed 290 warning alarms in various districts and valleys to alert the people.

Air traffic at King Abdulaziz International was not disrupted. However, some domestic flights were delayed, according to the airport administration. The airport postponed the take-off of eight domestic flights following heavy rain. The disrupted flights were bound for Madinah, Hail, Tabuk, Riyadh and Al-Qassim. One international flight was rerouted to Prince Muhammad International Airport in Madinah. The airport authorities urged, through its twitter account, the passengers to contact their respective airlines to check about any changes in their flight schedule.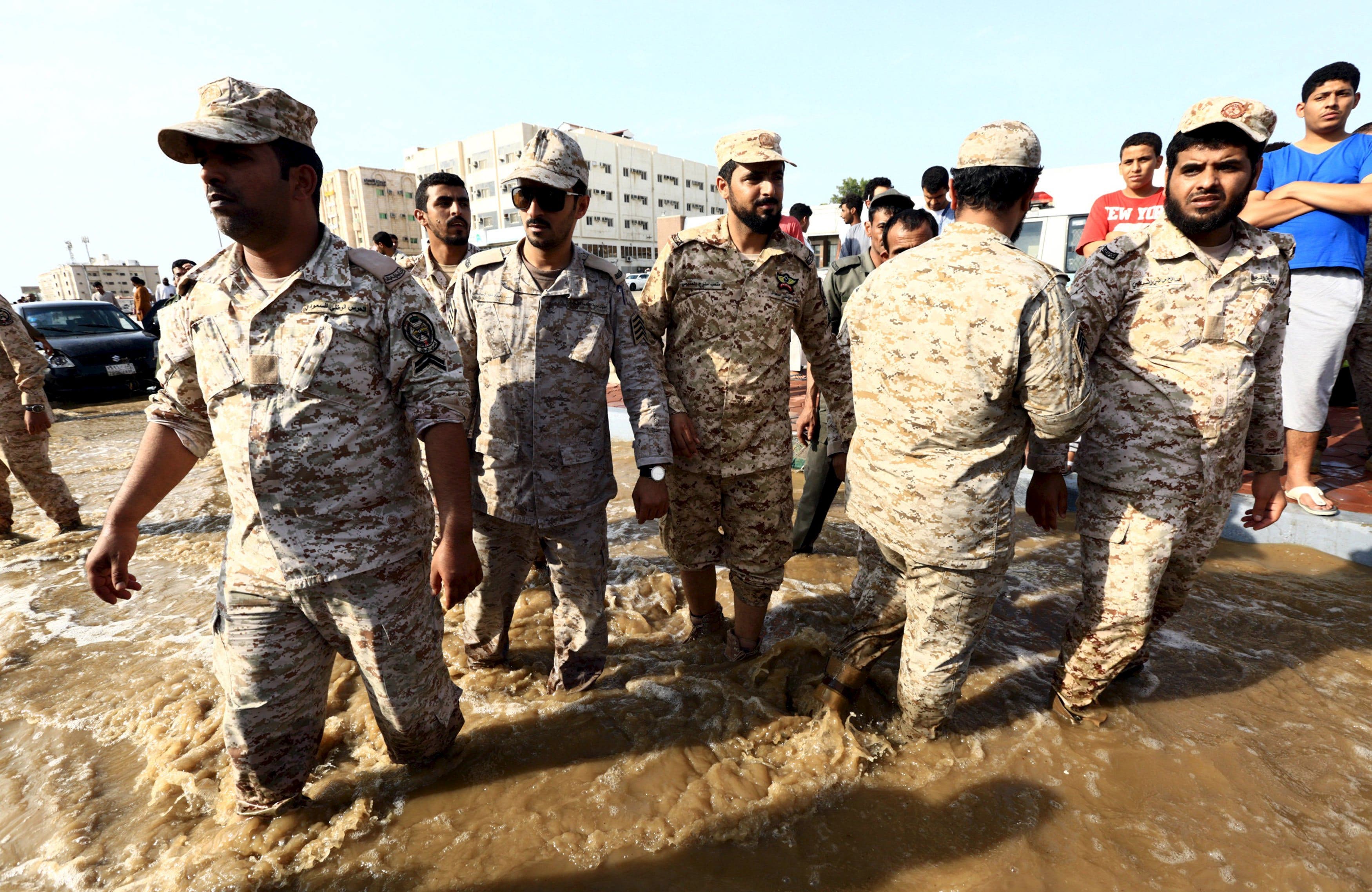 The rain caused power outage at Jeddah's main station in Al-Zahra that is allocated to pump out water from flooded streets, said a statement of Jeddah Municipality. The rain also affected seven pumps, which resulted in the accumulation of water in a number of locations.

Jeddah Municipality has allocated 1600 cleaning workers with 512 equipment to help remove water during the next 48 hours from all Jeddah roads.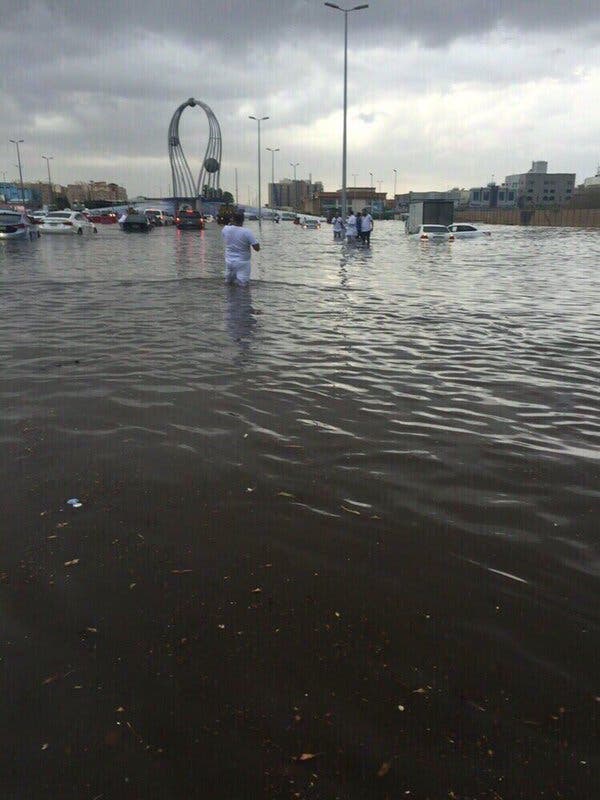 Jeddah Governor Prince Mishal Bin Majed has ordered to open main roads, suck water from public places, open roads to allow electricity teams to fix any power outages, tow away vehicles from roads. He also ordered the formation of a committee that includes representatives from the ministry of finance and the civil defense to provide immediate accommodation to those whose houses were affected by rain and cooperate with the ministry of defense to provide large vehicles to move marooned families to safe locations.


Several districts in Jeddah suffered from flooding. Tunnels were flooded, causing intense traffic jams.

A giant billboard collapsed on Madinah road, affecting traffic movement. Several Heddah neighborhoods suffered heavy floods and blocked roads, including Salamah district, Palestine Street, Prince Majed Road, and Rawdah district.

Many people voiced their concerns on Twitter with a number of hashtags circulating on the current Jeddah floods and posting comments, recalling the 2009 flash floods which caused many casualties.

In Makkah, six accidents were reported. Abdul Aziz Badouman, spokesman of the Saudi Red Crescent Authority in Makkah, said the authority's operation room received 31 calls until 2 p.m., of which six were about accidents.

There were four collisions of vehicles at Jumum, Al-Awali, Jiarana, and Haj Street, and overturning of vehicle on Old Makkah Jeddah Road. There was also a fire incident reported from Jumum, in which there were no casualties.

Col. Talaat Mansouri, director of traffic department in Makkah, said his department had prepared a plan to tackle the situation after the forecast of heavy rain. As many as 220 traffic patrol teams along with 16 officers have been deployed as part of the precautionary measures in various parts of the holy city, he added.

Meanwhile, government schools in Jeddah will remain closed on Wednesday; it was stated by Minister of Education Assam Al-Dakhil in his twitter account. The International Indian School-Jeddah will continue remain closed on Wednesday. The admission test for students of class one for the additional seats for the current academic session, scheduled for today, has been postponed, according to IISJ sources.

This article first appeared in the Saudi Gazette on Nov. 18, 2015.