Turkey: unrealistic to end row with Russia in one meet
Turkish FM met his Russian counterpart in Belgrade, in the first high level face-to-face contact since downing of the Russian jet incident
Turkey's foreign minister said on Thursday it would be unrealistic to expect all problems to be solved with Russia after a single meeting, but it was important to maintain open communication channels, state broadcaster TRT
reported Thursday, following the Turkish downing last week of a Russian jet.

Mevlut Cavusoglu met Sergei Lavrov on the sidelines of an international meeting in Belgrade, in the first high level face-to-face contact since the incident, which has seen Moscow announce a raft of punitive sanctions in response.

Moscow and Ankara are deeply at odds over what happened when Turkey downed the Russian SU-24 fighter bomber near the Syrian border as it took part in the Kremlin's air campaign against militants in Syria.
Before Cavusoglu meeting with Lavrov, Turkish President Recep Tayyip Erdogan on Thursday rejected "immoral" Moscow claims that his family was involved in alleged oil dealings with ISIS militants as his Russian counterpart continued lashing out against Ankara, vowing never to forget downing of a Russian jet.
"The immoral side of this issue is involving my family in the affair," Erdogan said in a televised speech in Ankara after the Russian defence ministry accused him and his family of involvement in illegal oil trade with ISIS jihadists after Ankara's downing of one of Moscow's warplanes last month.
The ministry said it had a proof that Erdogan and his family were benefiting from the illegal oil smuggling.
In order to calm the situation with Russia, Turkish Prime Minister Ahmet Davutoglu said Ankara is willing to share details of the jet downing incident.
Earlier, Davutoglu also dismissed the Russian allegations as "Soviet-style propaganda" on Thursday and said the NATO member was doing all it could to secure its border with Syria.

"In the Cold War period there was a Soviet propaganda machine. Every day it created different lies. Firstly they would believe them and then expect the world to believe them. These were remembered as Pravda lies and nonsense," Davutoglu said.

"This was an old tradition but it has suddenly reared its head again. Nobody attaches any value to the lies of this Soviet-style propaganda machine," he told a news conference before leaving on an official visit to Azerbaijan.

Davutoglu said a rejection of Russia's claims by the United States was further evidence that Moscow was peddling a fabricated narrative.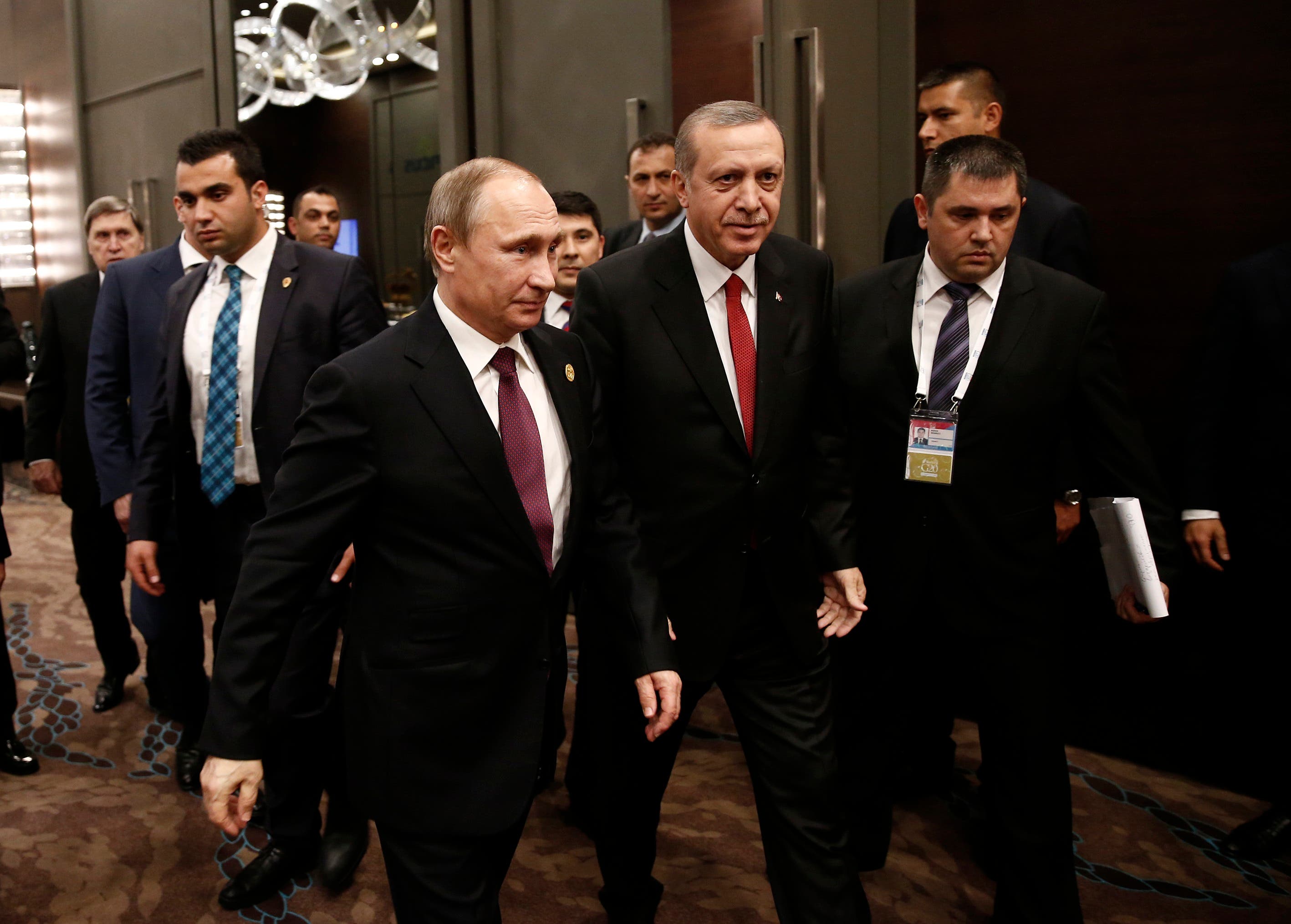 Putin: Russia 'will not forget'
Russian President Vladimir Putin on Thursday vowed never to forget Turkey's downing of one of Moscow's warplanes.
"We will not forget this complicity with terrorists. We always considered and will always consider treachery to be the ultimate and lowest act. Let those in Turkey who shot our pilots in the back know this," Putin told lawmakers in his annual state of the nation address.
"We know for example who in Turkey fills their pockets and allows terrorists to make money from the stolen oil in Syria," Putin said.
"It is precisely with this money that the bandits recruit mercenaries, buy arms and organize inhuman terrorist acts aimed against our citizens, the citizens of France, Lebanon, Mali and other countries."
Russia has announced sanctions against Ankara banning the import of some Turkish food and reintroducing visas for visitors from the country, and Putin insisted Turkey would be made to regret its actions.
"We will not rattle our sabres. But if someone thinks that after committing heinous war crimes, the murder of our people, it will end with tomatoes and limitations in construction and other fields, then they are deeply mistaken," Putin said.
"We will not stop reminding them of what they did and they will not stop regretting their actions."

Putin said that given a push to improve relations with Ankara in recent years, Moscow did not understand why its rival in the Syria war had downed its jet.
"Only Allah, most likely, knows why they did this. And evidently Allah decided to punish the ruling clique in Turkey by depriving them of their intelligence and reason."