Deadly raid hits leadership of key Syrian rebel group
Zahran Aloush, head of Jaysh al-Islam Syrian rebel group, and five others were killed in a raid targeting their meeting in Damascus
Zahran Aloush, head of the powerful Jaysh al-Islam Syrian rebel group, was killed on Friday east of Damascus, a monitoring group and Syria's opposition said.
The Syrian Observatory for Human Rights monitor said Aloush and five other commanders were killed "in an air strike that targeted one of their meetings in Eastern Ghouta."
Aloush's death was confirmed on Twitter by the head of Syria's opposition National Coalition.
It was not immediately clear who had carried out the air strike.
However, Reuters reported that Aloush was killed in the aerial raid that targeted his group's headquarters, citing two rebel sources as saying on Friday. They said a secret headquarters of the rebel group, which is the largest rebel faction in the area and has thousands of fighters, was targeted by what they described as Russian planes.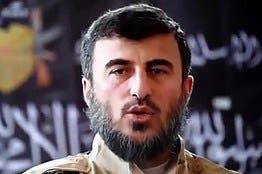 Activists also said the air strike killed Aloush's deputy and his spokesman in southern Damascus, Al Arabiya News Channel reported.
Jaysh al Islam, with thousands of trained fighters, is the biggest and seen as the most organized rebel group. It has been effectively running the administration of Eastern Ghouta.

Before setting up Jaysh al Islam, Aloush had founded Liwa al-Islam, or the Brigade of Islam, with his father Abdallah, a Salafist Syrian cleric based in Saudi Arabia.

Aloush was ideologically at odds with ISIS and al-Qaeda, espousing a more moderate brand of Islam.
The news of the air strike comes after some 4,000 people, half of them militant fighters, decided to leave three besieged districts south of Syria's capital at the weekend as part of a landmark ceasefire.
ISIS militants and its rival, Al-Qaeda's Syrian affiliate Al-Nusra Front, will reportedly quit the districts of Qadam, Hajar al-Aswad and the besieged Palestinian camp of Yarmuk.

(With Reuters and AFP)