ISIS chief says militant group 'doing well'
ISIS leader Abu Bakr al-Baghdad said 'the good news that our state is doing well' in spite of U.S., Russia air strikes
A purported audio message by ISIS's leader said air strikes by Russia and by a U.S.-led coalition had failed to weaken the group.

"Be confident that God will grant victory to those who worship him, and hear the good news that our state is doing well. The more intense the war against it, the purer it becomes and the tougher it gets," said the message purported to be from Abu Bakr al-Baghdadi.

It was posted on Saturday on Twitter accounts that usually publish ISIS statements.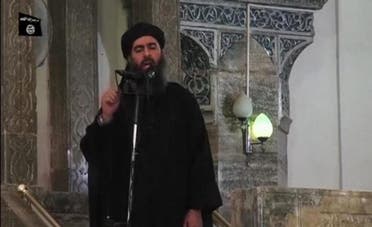 He also mocks a recently announced Saudi-led Islamic alliance against "terrorism" and warns Israel that "we are getting closer to you" every day.
To Israeli Jews, he says that they "will hide behind trees and stones" from the ISIS.
Al-Baghdadi urges Muslims world over to join the fight, saying it is their Islamic duty to rise up everywhere.
The authenticity of the audio could not be independently confirmed.

(With Reuters, AP)