No war with Iran, says Saudi deputy crown prince
Prince Mohammed bin Salman said Saudi Arabia "will not allow" a war between his country and Iran
Saudi Arabia's Deputy Crown Prince Mohammed bin Salman has said a war between his country and Iran would be the beginning of a catastrophe, and Riyadh will not allow it, British magazine The Economist reported on Thursday.

"It is something that we do not foresee at all, and whoever is pushing towards that is somebody who is not in their right mind," it quoted him as saying in an interview. "It will reflect very strongly on the rest of the world. For sure we will not allow any such thing."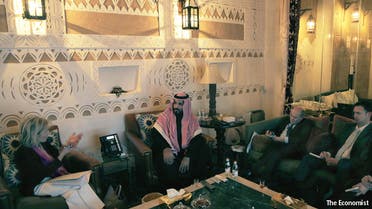 Saudi Arabia also feared it would escalate issues with Iran further had there been further attacks and had it not taken the decision to withdraw its diplomatic mission to Tehran and Mashhad.
"On the contrary, we fear that they will be further escalated. Imagine if any Saudi diplomat, or one of their families or children are attacked in Iran. Iran's position then will be much more difficult," bin Salman told the Economist.
Salman's comments were made during a five-hour conversation with The Economist, marking his first on-the-record interview.