Chinese president performs cultural dance as visit to Saudi ends
Before departing the Saudi capital, China's President Xi Jinping performed the traditional Saudi folkloric dance with King Salman
China's President Xi Jinping ended a two-day visit to Saudi Arabia on Wednesday with a tour of a historical palace alongside Saudi King Salman bin Abdulaziz.
Xi's visit to Saudi Arabia was part of his first trip to the Middle East since taking power.
Xi and King Salman were welcomed at Al-Muraba'a Historical Palace in Riyadh, with a performance of the traditional Saudi folkloric dance. The two even took part in the dance, the Saudi Press Agency reported.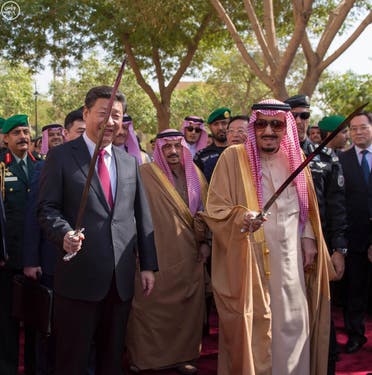 During the tour Xi was told about the palace's rooms and paid a visit to the late King Abdulaziz's court. He was also shown historical artifacts, including clothing and photos of the late King Abdulaziz with world leaders, and photos of the former king with his sons.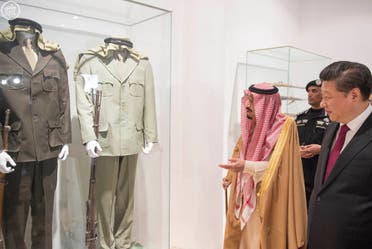 Earlier in the day, Xi and King Salman had inaugurated an energy research center in Riyadh and opened the Yasref oil refinery, a joint venture between Saudi Aramco and China's Sinopec.
On the first day of the trip, King Salman had greeted the Chinese president at Riyadh airport. Xi later described his visit to the kingdom as a "friendly trip with fruitful achievements."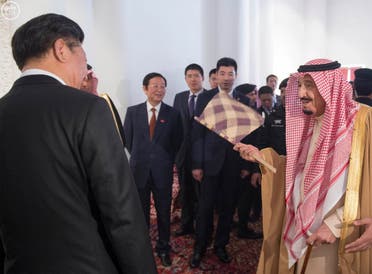 Saudi Arabia and China inked 14 landmark agreements and memorandum of understanding (MoU) aimed at further bolstering bilateral ties and cooperation.
The deals, which include MoUs for the Silk Route Economic Belt and Sea Silk Route Initiative for the 21st century, as well as building a nuclear reactor, were signed in the presence of King Salman and President Xi, SPA added.
The Chinese president left Riyadh on Wednesday, waved off by Deputy Crown Prince Mohammed bin Salman bin Abdulaziz, the second deputy premier and minister of defense.
Xi is expected to arrive in Iran later in the week, with a further stop in Egypt after he leaves Saudi Arabia.
Xi is the first Chinese president to visit Saudi Arabia since 2009, when Hu Jintao went. Jiang Zemin was the last Chinese president to visit Iran, in 2002.