Syria's warring sides exchange blame
A spokesman for the Syrian opposition said Assad's regime not keen to make peace talks a success
Syria's warring sides on Sunday exchanged accusations with the opposition saying President Bashar al-Assad's regime will work to not make peace talks in Geneva a success.
The Syrian opposition also said it wants a start of a political process, which could end with elections and a pluralistic government, an opposition spokesman told reporters in Geneva.
Spokesman of the High Negotiations Committee (HNC) said the opposition "came here" to prove that it is keen to make the start of a political process a success while Assad's regime will do the opposite.
He said the Syrian opposition is looking forward for a transitional government, temporary constitution, and process for elections to represent all Syrians.
After arriving in Geneva from Riyadh, Muslat told reporters that "we are keen to make this negotiation a success."
Muslat said the HNC insisted on implementation of a U.N. resolution demanding all sides allow aid access, release detainees, end sieges and stop targeting civilian areas.
That was not a precondition for talks, he said, but it was the duty of the Security Council members who agreed the resolution last month, including Syria's chief ally Russia, which is supporting Assad's forces with a bombing campaign.
On the same day, a Syrian top official said Damascus wants to end the violence ravaging Syria for nearly five years, but lamented that the main opposition was "not serious" about U.N.-brokered peace talks.
The Syrian government "wants to put an end to the bloodshed," Syria's ambassador to the U.N. Bashar al-Jaafari told reporters in Geneva, describing HNC, which has said for now it will not negotiate, as "not serious."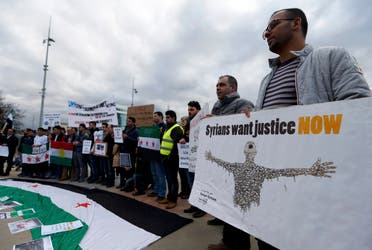 Meanwhile, the United Nations envoy for Syria will hold separate talks in Geneva on Monday with representatives of President Bashar al-Assad's regime and the main opposition, sparking hope troubled peace talks could finally get moving.
The office of Staffan de Mistura said in a statement that the U.N. envoy would meet Syrian government delegates at 11 am (1000 GMT) and HNC six hours later.
The 17-strong team from the Saudi-backed HNC, including political and militant opponents of Assad in the country's 5-year-old civil war, was expected to have their first meeting with de Mistura on Sunday, setting up the first peace talks in two years.
Opposition could quit
A senior negotiator said on Sunday said that the Syrian opposition delegation could walk out of the process if President Bashar al-Assad's forces and allies continue to escalate a bombing campaign in rebel-held areas and hamper delivery of humanitarian aid.

The delegation is seeking a halt to attacks on civilian areas, the release of detainees and a lifting of blockades. The measures were mentioned in a Security Council resolution approved last month that endorsed the peace process for Syria.

But Riad Hijab, the leading figure in HNC, which brings together representatives of the mainstream political opposition and rebel groups, said in an online statement that without U.N. and international pressure on the Syrian government there would be no justification for the main Saudi-backed opposition group to remain in Geneva.

"In view of the regime and its allies' insistence in violating the rights of the Syrian people, then the presence of the HNC delegation in Geneva would not have justification and the HNC could pull its negotiating team," Hijab said.

Hijab was not among the group that arrived in Geneva and his comments came after a meeting with Turkish Prime Minister Ahmet Davutoglu in Riyadh, where Hijab was quoted as expressing his concern about the intensifying aerial bombing on Syrian cities and refugee camps.

He said that the delegation had travelled to Geneva only after they received written and verbal assurances from world powers that humanitarian issues would be addressed.
Kerry urges both sides
On Sunday, U.S. Secretary of State John Kerry urged Syria's opposition and regime to play a full role in peace talks, while accusing Assad's forces of starving civilians.
"This morning, in light of what is at stake in these talks, I appeal to both sides to make the most of this moment," he said, in an online statement broadcast from Washington.
U.N. Syrian envoy 'optimistic'
Meanwhile, the U.N. Syria envoy said he was "optimistic and determined" following the meeting with the main opposition group.
"I am optimistic and determined because it"s an historic occasion not to be missed," U.N. envoy Staffan de Mistura told reporters as he left a Geneva hotel after meeting with HNC delegates.
In a related story, a Syrian official said Assad's government will "never accept" the removal of two militant groups from a list of terrorist organizations barred from peace talks.
Ahrar al-Sham and the Army of Islam, two Islamic groups fighting to overthrow Assad, agreed to take part in the U.N.-sponsored peace talks in Geneva.
But the Syrian government and its close ally Russia view both as terrorist groups that should be excluded from the process, along with the Islamic State group and al-Qaeda's local affiliate.
Information Minister Omar al-Zoubi's comments to state TV late Saturday came as the main opposition delegation arrived in Geneva.
The delegation has named Army of Islam official Mohammed Alloush as its chief negotiator.
Most parties agree that ISIS and the al-Qaeda-affiliated Nusra Front should be excluded.
Meanwhile, Muslat accused Russia that it "fought everything" except for "terrorism" in Syria.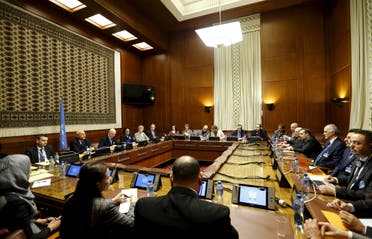 Air strikes and shelling
Russian air strikes were also reported by the group in Hama province and in the eastern province of Deir al Zor where scores of people were killed in the aerial attacks on ISIS- controlled towns in the territory that also borders Iraq, according to residents.

At least 40 people, including women and children, were injured when the army shelled a camp where over 3,000 displaced people had taken shelter, according to a rebel spokesperson from the First Coastal Division brigade who spoke from the area along the Turkish border in northwestern Latakia.

Heavy clashes also continued in the Latakia countryside where the Syrian army backed by intensive Russian carpet bombing in the rugged mountainous area allowed the government to regain most of the countryside close to the coastal heartland of Assad's Alawite sect.

In separate comments before heading to Geneva, Zoubi said U.S. Secretary of State John Kerry gave assurances by phone to the HNC's leadership, saying Washington supported a U.N.-backed political transition period without Assad, a bone of contention among warring parties.

The HNC also has been under pressure from mainstream armed groups represented within it not to give in to Western pressure, with some rebel groups already threatening to pull out of the body.
(With agencies)