Syria talks delayed as Aleppo push intensifies
The United Nations said an offensive by Syrian government has uprooted hundreds of families and killed 3 aid workers

A United Nations envoy halted his attempts to conduct Syrian peace talks on Wednesday after the army, backed by Russian air strikes, advanced against rebel forces north of Aleppo, choking opposition supply lines from Turkey to the city.

Staffan de Mistura announced a three-week pause in the Geneva talks, the first attempt to negotiate an end to Syria's war in two years, saying they needed immediate help from the rival sides' international backers, principally the United States and Russia.

"I have indicated from the first day that I won't talk for the sake of talking," the envoy, who has described the negotiations as Syria's last hope, told reporters.

Washington and Moscow's support for opposite sides in the five-year-old war, which has drawn in regional states, created millions of refugees and enabled the rise of Islamic State of Iraq and Syria (ISIS), means a local conflict has become an increasingly fraught global standoff.

De Mistura has said a ceasefire is essential but Russia refused to suspend its air strikes. They helped government forces end a three-and-a-half year siege of the Shi'ite towns of Nubul and al-Zahraa on Wednesday, a step towards recapturing all of Aleppo, Syria's biggest city before the war.

"I don't see why these air strikes should be stopped," Russian Foreign Minister Sergei Lavrov said, saying they were targeting al Qaeda-linked rebels.

Opposition delegation coordinator Riad Hijab said there would be no ceasefire until a transition without President Bashar al-Assad was in place.

Moscow accuses Washington, which is backing opponents of Assad, of supporting terrorists, while the U.S. State Department said the air strikes around Aleppo focused mainly on Assad's foes rather than ISIS militants Russia says it is trying to defeat.

The United Nations said it had been told hundreds of families had been uprooted following "an unprecedented frequency" of air strikes in the past two days. Three aid workers were among the dead.

Its envoy had formally opened the peace talks on Friday but both sides denied they had ever begun.

Aleppo rebel factions, reeling from the assault, told the opposition delegation late on Tuesday they would bring down the negotiations within three days unless the offensive ended, a source close to the talks said.

De Mistura halted the talks until Feb. 25 after meeting the opposition.

"I have concluded frankly that after the first week of preparatory talks there is more work to be done, not only by us but by the stakeholders," de Mistura said.

French Foreign Minister Fabius Laurent Fabius said his government supported De Mistura's decision and he accused Assad and his allies of "torpedoing" the peace effort.

The opposition's Hijab said the pause gave the West a chance to put pressure on the Assad government and Russia to end their assault and that he would not return until there was a change on the ground.

The Levant Front rebel group said the breaking of the sieges of the Aleppo villages of Nubul and Zahraa came only after "more than 500 raids by Russian airplanes".

The opposition has said it will not negotiate unless the government stops bombarding civilian areas, lifts blockades on besieged towns and releases detainees.

The Syrian Observatory for Human Rights, which monitors the violence in the country, said Russian and Syrian warplanes launched dozens of strikes on the rebel towns of Hayan and Hreitan in northern Aleppo on Wednesday.

U.S. State Department spokesman John Kirby told a briefing the strikes around Aleppo had led to reports of more civilian casualties, displacement of Syrian citizens and the possible obstruction of humanitarian assistance routes.

"It is difficult in the extreme to see how strikes against civilian targets contribute in any way to the peace process now being explored," Kirby told reporters. Kirby said the U.N. special envoy had paused the Geneva peace talks in part because of the disruption of humanitarian aide and civilian deaths.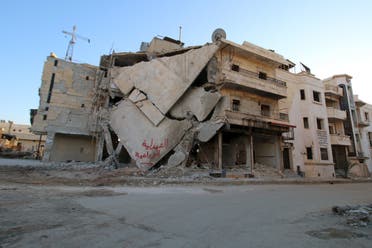 Sieges

When asked about opposition demands for the government to lift sieges and allow humanitarian convoys into cities, including the rebel-held town of Mouadamiya, Syrian delegation chief Bashar al-Ja'afari said the government had regularly sent convoys to it and other cities.

On Sunday, the United Nations said Mouadamiya, a town of 45,000 on the southwest edge of Damascus, faced a new siege by government forces.

"We can't cut and paste with regard to the interest of the people," Ja'afari said. "Everything in Syria is important, everything is a priority for us.

"The issue of selecting Mouadamiya or another area or town is a public relations campaign launched by the so-called opposition."

Senior Syrian opposition negotiator Mohamed Alloush, representing the major rebel group Jaish al-Islam (Islam Army), said it would be insufficient for the government to allow a convoy into the town.

"It's a step to silence the Syrian people," he told Reuters. "It's a good step but it's not enough and the problem is not in Mouadamiya. The problem is in 22 besieged cities."

U.N. Secretary General Ban Ki-moon called for "a strong show of solidarity" at a conference in London on Thursday on humanitarian aid for Syria.

"We have at least 400,000 people stranded in besieged villages," he said at least 15 besieged villages," he said, adding that only a tiny percentage were receiving aid. "It is very difficult for us, very dangerous."

Lebanon said it would ask international donors at the meeting for $12 billion over the next five years to cope with more than a million Syrian refugees.