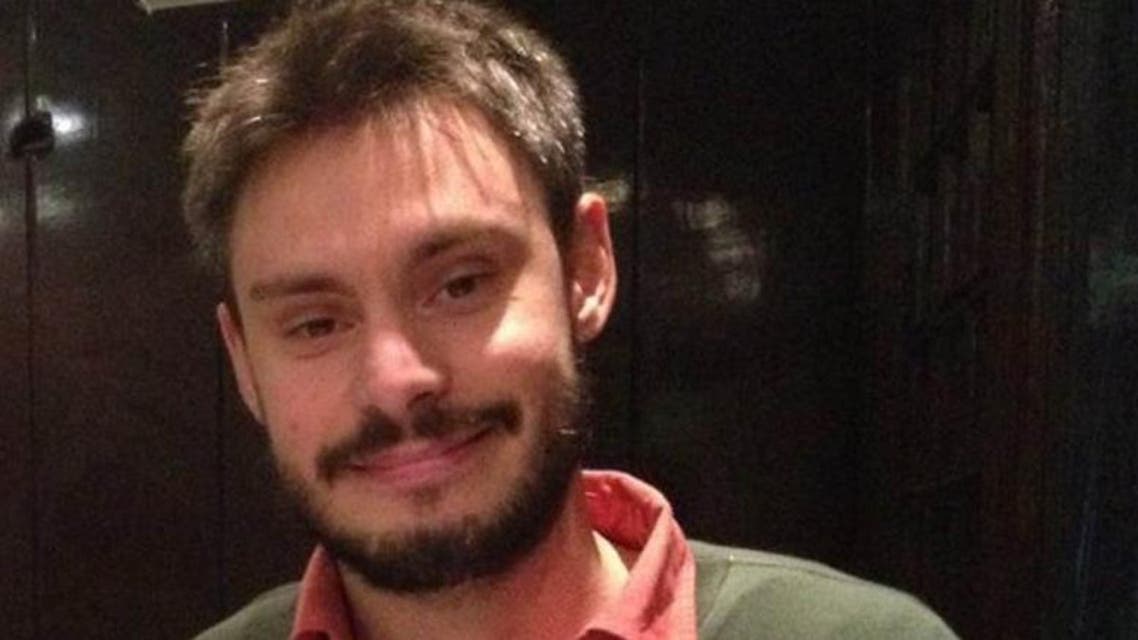 Egyptian investigator in Italian's death 'has prior torture-linked conviction'
Regeni, 28, disappeared on Jan. 25, the fifth anniversary of the 2011 uprising that ended President Hosni Mubarak's 30-year rule
A senior Egyptian police officer investigating the death of Italian student Giulio Regeni has a prior conviction in connection with the torture and killing of a detainee, according to judicial and security sources and a court document shared by rights groups.
Regeni, 28, disappeared on Jan. 25, the fifth anniversary of the 2011 uprising that ended President Hosni Mubarak's 30-year rule.
His body was found on the side of the main Cairo-Alexandria highway on Feb. 3. Egyptian forensics and prosecution officials have said he was tortured and killed by a blow with a sharp object to the back of the head.
Khaled Shalaby, now head of Criminal Investigations in Giza, and three others were charged in 2000 with torturing and killing a detainee inside a police station in Alexandria, according to the sources and the court document.
Under a final court ruling in 2003, he received a one-year suspended sentence for failing to prevent the death, judicial sources said.
The document, posted online by Egyptian human rights activists, suggested the detainee was strangled to death in 1999.
Reuters was not immediately able to verify the authenticity of the document but judicial sources confirmed the conviction.
The case is also cited in a 2007 report compiled by human rights groups including the Nadeem Center for the Rehabilitation of Victims of Violence outlining a string of alleged abuses at the Montazah police station where Shalaby worked.
Shalaby became head of Criminal Investigations in Alexandria in 2009 and was transferred in 2013 to Giza where he was promoted to head the Criminal Investigations unit, according to a security source.
Contacted by telephone, Shalaby denied the conviction.
"What does that have to do with the Italian's case?" he said.
The Criminal Investigation unit that Shalaby heads is one of several involved in the probe, which is led by Homeland Security and also includes Italian security officers.
On Feb. 4 the website of the pro-government newspaper Youm7 quoted him as saying Regeni was hit by a car and that his body bore no signs of a criminal act.
But Ahmed Nagy, a senior prosecutor in Giza, said Regeni's body bore cigarette burns and slits to the ears. The Egyptian coroner's report has not been made public but other forensic and prosecution sources have said it found signs of torture including broken ribs and electrocution.
A copy of Regeni's CV provided by a friend showed he spoke Arabic and that his doctoral research at Britain's Cambridge University focussed on trade union activity in Egypt after Mubarak's overthrow.
Friends of Regeni said his research may have led him to meet labour activists and critics of the current government of President Abdel Fattah al-Sisi, who is waging the fiercest crackdown on dissent in Egypt's modern history.
Rights groups allege that Egyptians are often detained by police on scant evidence and beaten, sometimes to death. The Interior Ministry denies police brutality is endemic.
Signs of torture
Regeni's death could complicate efforts by Sisi's government to project an image of stability to win back tourists and foreign investors scared off by years of post-uprising turmoil.
Regeni's body was returned to Rome on Feb. 6, where the Italian authorities conducted a second autopsy. Italian Interior Minister Angelina Alfano told Sky News 24 television station that autopsy had revealed "something inhuman, something animal".
Egyptian Interior Ministry spokesman Abu Baker Abdel Karim did not respond to repeated calls made by Reuters but a ministry statement issued on Monday denied media reports that Regeni had been arrested by security forces.
Mohamed Zarei, a Cairo human rights lawyer, cast doubt on the ministry's stance.
"Electrocution and cigarette burns and beatings and pulling out nails, these are methods used by Homeland Security and are used all the time. As we speak there might be someone hanging up or being tortured in a detention centre," Zarei told Reuters.
Tensions high
Tensions were high in the run-up to the anniversary of the 2011 revolt, with police out in force and detaining activists and warning against demonstrations. They focussed on downtown Cairo, focal point of the original uprising.
No significant protests took place. A friend of Regeni said the student left the house where he was staying in a smart district of the capital to attend a birthday party downtown but never arrived.
Italian judicial sources said that while Egypt had passed on a document with some information, including that Regeni was not seen reaching the metro station where he was going on his way to meet his friend, Italian investigators have not seen physical evidence.
Italians have not been given the video surveillance from either the metro station near his house, or the one where he was supposed to arrive, judicial sources said. Investigators have had no access to his telephone records either, the sources said.
The furore over Regeni comes at a time when the Interior Ministry is facing protests from doctors, who have accused security forces of beating up medical staff in a Cairo hospital.
Rights groups have accused security forces of abducting dissidents, allegations denied by the Interior Ministry.
The left-wing Italian newspaper Il Manifesto said after Regeni's death that he had written articles from Egypt under a pseudonym. In the last one, published posthumously, Regeni criticised the lack of democracy in Egypt under Sisi.
Outraged academics have signed online petitions demanding an impartial investigation into Regeni's death.