Turkey blames Kurdish militants for Ankara attack
A large explosion, believed to have been caused by a bomb, killed at least 28 people and wounded at least 61 others
Turkish Prime Minister Ahmet Davutoglu on Thursday blamed Kurdish militants in Turkey and Syrian Kurdish fighters for the Ankara bombing targeting military vehicles that killed 28, confirming the bomber was a Syrian national.
"It has been revealed that this attack was carried out by members of the terrorist organisation in cooperation with a YPG member who infiltrated (Turkey) from Syria," Davutoglu told reporters in Ankara, confirming the bomber was a Syrian national named Salih Necar and saying nine people had been detained over the attack.
Davutoglu was referring to the outlawed Kurdistan Workers Party (PKK) and the Syrian Kurdish People's Protection Units (YPG), which Turkey both considers to be terror groups.
A car bomb detonated in the Turkish capital Wednesday near vehicles carrying military personnel, killed at least 28 people and wounded at least 61 others, officials said.
The explosion occurred during evening rush hour in the heart of Ankara, in an area close to parliament and armed forces headquarters. Buses carrying military personnel were targeted while waiting at traffic lights at an intersection, the Turkish military said while condemning the "contemptible and dastardly" attack.
"We believe that those who lost their lives included our military brothers as well as civilians," Deputy Prime Minister Numan Kurtulmus said.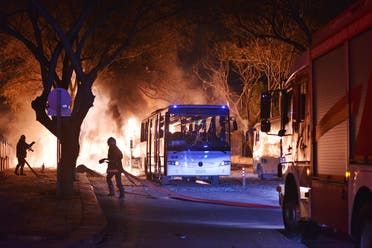 At least two military vehicles caught fire and dozens of ambulances were sent to the scene. Dark smoke could be seen billowing from a distance.
Kurdish rebels, ISIS and a leftist extremist group have carried out attacks in the country recently. In October, suicide bombings blamed on ISIS targeted a peace rally outside the main train station in Ankara, killing 102 people in Turkey's deadliest attack in years.
The deputy prime minister said the violence would not deter Turkey from its fight against terror groups.
"We will never give up on our determination in our fight against terrorism. Whoever is behind this (attack), whoever gave its support, we will find them and bring them to account," Kurtulmus said.
'Array of challenges'
Wednesday's attack comes at a tense time when the Turkish government is facing an array of challenges. A fragile peace process with Kurdish rebels collapsed in the summer and renewed fighting has displaced tens of thousands of civilians.
Turkey has also been helping efforts led by the United States to combat ISIS in neighboring Syria, and has faced several deadly bombings in the last year that were blamed on ISIS.
Turkey, which is already home to 2.5 million Syrian refugees, has also been a key focus of European Union efforts to halt the biggest flow of refugees to the continent since World War II.
Hundreds, sometimes thousands, of refugees leave every night from Turkey to cross the sea to Greece in smugglers' boats.