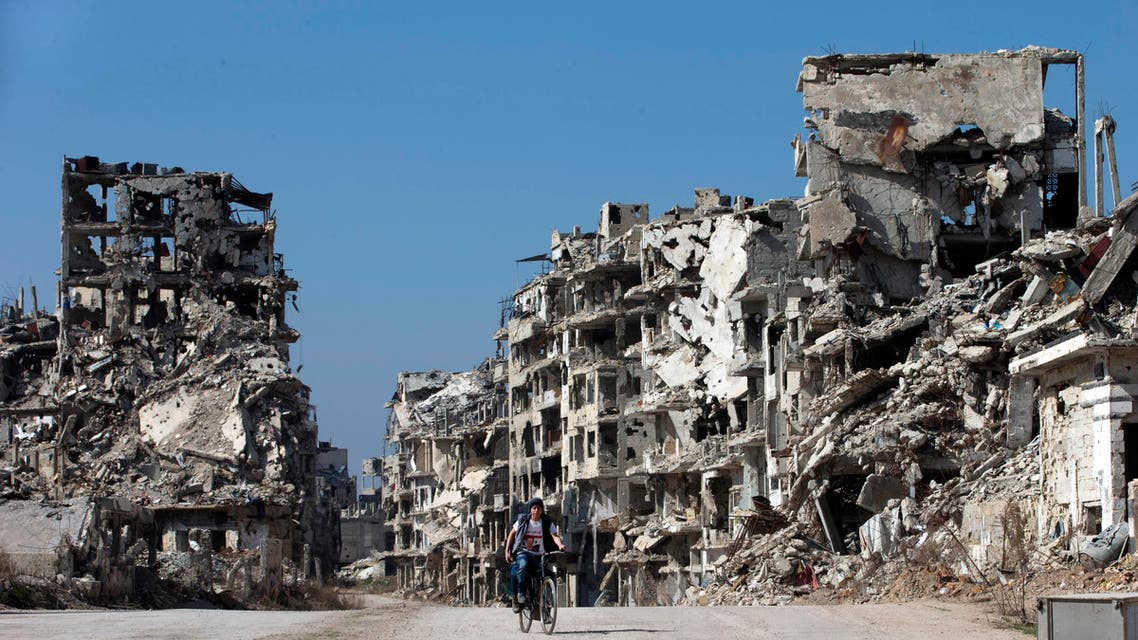 Syrian rebels blame regime for ceasefire breaches
The United Nations said it expected breaches in the temporary truce and urged restraint in curbing any new outbreaks of fighting
Syrian rebels in the country's northwest said they came under attack from government ground forces at 4 a.m. (0200 GMT) on Saturday in what they called a breach of a cessation of hostilities plan that came into effect at midnight.

Three fighters from the rebel Second Coastal Division were killed while repelling the attack in the Jabal Turkman area near the Turkish border in Latakia province, Fadi Ahmad, spokesman for the affiliated First Coastal Division, told Reuters.
The First and Second Coastal Divisions are part of a loose alliance of rebel groups known as the Free Syrian Army.
Also, at least two people were killed when a car bomb exploded at the entrance of a town in the Syrian province of Hama on Saturday, state television reported.

The Syrian military could not immediately be reached for comment. The Syrian government has said it will respect the agreement drawn up by Russia and the United States, but has said it will continue to fight the al-Qaeda-linked Nusra Front and ISIS which are not covered by the deal.
A monitoring group and the United Nations reported only isolated fire in western Syria after the temporary ceasefire began at midnight on Saturday.
The United Nations said it expected breaches in the temporary truce and urged restraint in curbing any new outbreaks of fighting.
"Let's pray that this works because frankly this is the best opportunity we can imagine the Syrian people has had for the last five years in order to see something better and hopefully something related to peace," said U.N. Syria envoy Staffan de Mistura.
Damascus and its ally Russia, as well as a range of insurgent groups fighting against them, have said they would take part in the plan.
The temporary truce does not apply to ISIS and al-Qaeda affiliate the Nusra Front, and the Syrian government and Moscow have said they will not halt combat against those militants. Other rebels seen as moderates by the West say they fear this will be used to justify attacks on them.
Nusra Front, one of Syria's most powerful Islamist rebel groups, on Friday urged insurgents to intensify their attacks on President Bashar al-Assad and his allies, adding to dangers facing the agreement.
Fighting raged across much of western Syria right up until the cessation came into effect, the Britain-based Syrian Observatory for Human Rights said.
There was calm in many parts of the country shortly after midnight, it said.
"In Damascus and its countryside ... for the first time in years, calm prevails," Observatory director Rami Abdulrahman said.
"In Latakia, calm, and at the Hmeimim air base there is no plane activity," he said, referring to the Latakia base where Russia's warplanes operate.
Some gunfire had been heard shortly after midnight in the northern city of Aleppo, and there were some blasts heard in northern Homs province, but it was not clear what had caused them, Abdulrahman said.
The United Nations unanimously demanded late on Friday that all parties to the conflict comply with terms of the plan as part of efforts to end a war that has killed more than 250,000 people and driven 11 million from their homes. De Mistura said he intends to restart peace talks on March 7, provided the halt in fighting largely holds.
On Friday, at least 40 government soldiers and allied fighters and 18 insurgents were killed in battles and air strikes in Latakia province, the Observatory reported.
Six people were also killed in an air raid in western Aleppo province in the hours before the halt, it said.
Near Damascus, dozens of air raids hit the besieged suburb of Daraya. Rescue workers said at least five people were killed in Douma, northeast of the capital.
Russian President Vladimir Putin stressed on Friday that combat actions against ISIS, the Nusra Front and other groups the Syrian government regards as terrorists would continue.
The United States said it was time for Russia to show it was serious about halting fighting by honoring a commitment not to strike Syrian groups that are part of the moderate opposition.
Syria task force hails ceasefire
A special international task force co-chaired by the United States and Russia on Saturday hailed a Syrian ceasefire that appeared to be holding across much of the country, a western diplomatic source said on condition of anonymity.
"The United Nations, the United States and Russia have made a positive assessment of the first hours of the cessation of hostilities," a western diplomat said after a meeting of the International Syria Support Group (ISSG) in Geneva.
The UN reported "some incidents" in apparent violation of the truce, but "they have been defused", he said.
"We really need to wait for Sunday and Monday in order to make a full assessment," the source said, adding that Saturday was a public holiday in Syria.