Kerry holds talks on Syria, Yemen in Saudi Arabia
Also joining the talks were Emirati Foreign Minister Abdullah bin Zayed al-Nahyan at the northeastern King Khalid Military City base
US Secretary of State John Kerry met Saudi Arabia's King Salman and his most senior ministers Friday, as Washington and its Arab allies pushed for new Syrian peace talks.
The United Nations hopes to host indirect talks between Syrian President Bashar al-Assad's regime and rebel leaders in Geneva on Monday, to reinforce a tentative ceasefire on the ground.
The United States and Saudi Arabia are two of the chief sponsors of opposition forces in the five-year-old civil war, and will be key to getting them to the table.
"I think we need to talk about Syria," Kerry said, as he sat down with Crown Prince Mohammed Bin Nayef and senior Saudi officials after his reception with King Salman.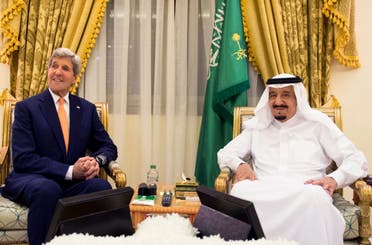 Top Saudi officials, including Defense Minister Mohammad Bin Salman al-Saud and Foreign Minister Adel Al-Jubeir, had gathered at a military base after a major exercise.
They were joined by Emirati Foreign Minister Abdullah bin Zayed al-Nahyan at the northeastern King Khalid Military City base, scene this week of the "Northern Thunder" exercise.
According to a senior State Department official, Kerry "emphasized that now is the time to keep moving forward toward ending the conflicts in Syria and Yemen".
A Saudi-led coalition -- including Emirati forces -- has been bombing Iranian-backed Houthi militias for a year in support of Yemen's beleaguered government, amid mounting civilian casualties.
"In Yemen, the United States welcomes the reduction of violence on the Yemen-Saudi border and the increased delivery of humanitarian relief," the US official said.
"We continue to support the efforts of the UN Special Envoy to bring all parties back to the table in pursuit of a peaceful political transition as soon as possible."
On Saturday, Kerry was due to head to Paris to meet his French, British, German and Italian opposite numbers, seeking to coordinate efforts to try to end the Middle East crises.
Earlier Friday, UN peace envoy Staffan de Mistura called for Syrians to hold elections within 18 months.
But in a worrying development ahead of the negotiations, government raids reportedly killed five civilians in Syria's second city, Aleppo, despite the fragile ceasefire.
The truce has prompted a nearly two-week lull in fighting between the Russian-backed regime and non-jihadist rebels since coming into force on February 27.
In Washington, the State Department said the truce is "largely holding," despite government attacks on civilians and opposition forces.
But spokesman John Kirby also warned that the conflict, in which more than 270,000 people have been killed since it broke out in March 2011, had reached "a critical moment".