Syria's Palmyra can be restored 'in five years'
The Syria army's retaking of Palmyra on Sunday has been hailed by President Bashar al-Assad and his allies Russia and Iran
Syria's antiquities chief said on Monday that his department would need five years to restore the ancient ruins of Palmyra damaged by ISIS.
"If we have UNESCO's approval, we will need five years to restore the structures damaged or destroyed by IS," Maamoun Abdulkarim told AFP, using another name for the militants.
In addition to two historic temples razed by the group just months after taking Palmyra from the regime in May, Syrian state TV aired footage showing damage to the city's historic castle it said were "deliberate acts of demolition" by ISIS.
The Syria army's retaking of Palmyra on Sunday has been hailed by President Bashar al-Assad and two of his key allies, Russia and Iran.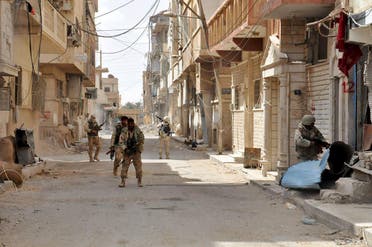 Iran on Monday vowed to continue to support the government of President Bashar al-Assad to fight "terrorism", media reported.
Ali Shamkhani, secretary of the Supreme National Security Council, sent a message to Assad to congratulate him on Sunday's "admirable and honourable" win over ISIS.
Iran's government and its armed forces "will continue to provide Syria with their full support" against the militants, Shamkhani said, according to the official news agency IRNA.
Iran provides financial and military support to Assad through its elite Revolutionary Guards, notably sending "military advisers" and "volunteers" to fight alongside the Syrian army.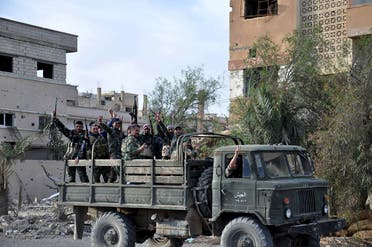 Guards chief Major General Mohammad Ali Jafari said "the situation in Syria is very good" after the recapture of Palmyra, Fars news agency reported.
Foreign ministry spokesman Hossein Jaber Ansari also lauded Syria's victory and said that Tehran will continue to back the Assad regime and other governments battling extremism.
"Iran's support continues for the fight against terrorism in Syria, Iraq and countries exposed to this threat," Ansari told Iran's Arabic-language Al-Alam television.
"Syria will march forward strongly in the fight against terrorism and the terrorists definitely won't have a place in the future of the region," he added.
Syrian troops ousted the militants from the ancient city on Sunday almost a year after they had seized it.

(With AFP)