EgyptAir hijacker appears in Cyprus court
Hijacker Seif El-Din Mustafa had claimed to be wearing an explosive belt that authorities said turned out to be fake
The man accused of hijacking an EgyptAir plane and forcing it to land in Cyprus was remanded into police custody for eight days during his first court appearance on Wednesday.
Police told the court in Larnaca that 58-year-old Egyptian Seif al-Din Mohamed Mostafa faces possible charges of hijacking, kidnapping people with the aim of taking them to an unknown destination, reckless and threatening behavior and offences that breach the anti-terror law.
The accused did not speak in court.
But as he left in a police car, he gave the victory sign to journalists attending the hearing at the courthouse, which is less than a kilometer (half a mile) away from Larnaca airport where the hijacking unfolded on Tuesday.
Mostafa, who has a Cypriot ex-wife, will not face any formal charges until a later hearing and only at that point will he be expected to enter a plea.
Cyprus authorities have described Mostafa as "psychologically unstable" and said the case was not "terrorism-related".
He is accused of forcing the plane to divert to Larnaca airport on the island's south coast on Tuesday by threatening to detonate an explosives belt that turned out to be fake.
Authorities allege that his motives were personal and related to his Cypriot ex-wife with whom he is reported to have had children.
The hijacking triggered a six-hour standoff at the airport and the closure of the main entry point for tourists to the Mediterranean resort island.
Most of the 55 passengers on the plane -- originally travelling from Alexandria to Cairo -- were quickly released after it had landed.
But some escaped only minutes before the standoff ended, including one uniformed man who was seen clambering out of a cockpit window and dropping to the ground.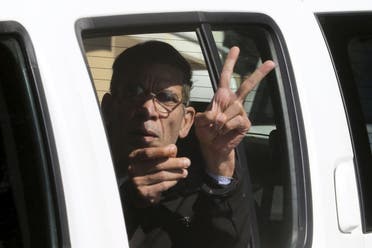 'Man of few words'
Seif El-Din Mustafa was described as a "troublemaker" by neighbors.
There were several reports about Mustafa demanding to see his ex-wife, who lives in Cyprus, and that she was called in to help negotiations. Separately, it was reported that Mustafa demanded that Egypt release political prisoners for him to surrender himself and the remaining passengers and crew on board.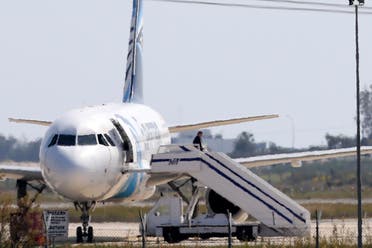 According to Egyptian news site Ahram Online, Mustafa had made several phone calls on board "that Egyptian civil aviation minister Sherif Fathy said had showed he was not a terrorist but a man with personal and mental problems."
Speaking to Al Ahram's Arabic site, one of Mustafa's neighbors back in Egypt described him as a "troublemaker."
"His Cypriot wife took their children and flew back home after disagreements between them, so I expect he did all that so he could go to them," the neighbor, Um Assmaa, was reported as saying.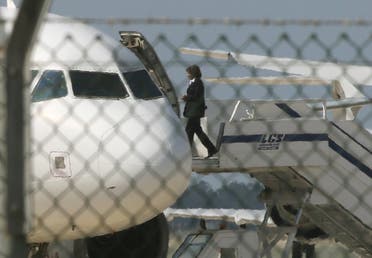 She added that Mustafa was a "troublemaker" during the time he lived in a Cairo neighborhood, saying he once impersonated someone, prompting the police to take action.
"He was a man of a few words," said Anwar, another neighbor, speaking to Al Ahram.
Images of Mustafa, believed to have been taken during the hostage situation, show the fake device strapped around his waist.