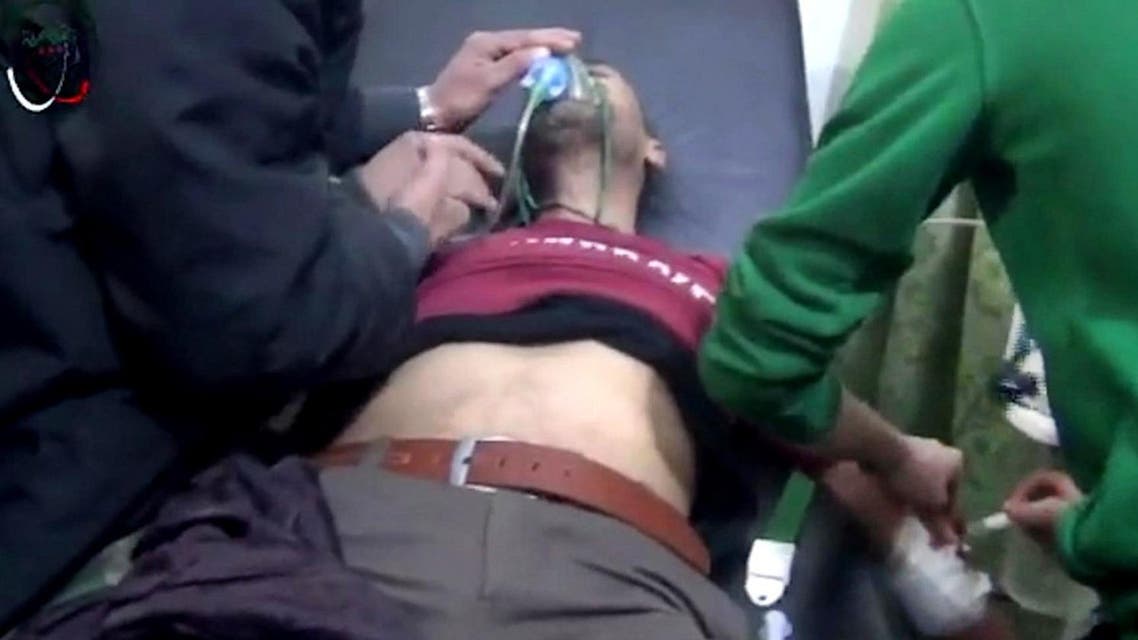 Eyewitness footage shows devastating barrel bomb attacks
The horror of living in a Syrian town that is being targeted by relentless barrel bombing by the Assad regime is the subject of a shocking video
The horror of living in a Syrian town that is being targeted by relentless barrel bombing by the Assad regime is the subject of a shocking video released by the humans rights group Amnesty International on Tuesday.
The footage was shot from within the besieged city of Daraya, near Damascus, which has seen regular attacks using the devastating bombs.
"This video conveys the sheer terror experienced by besieged civilians coming under relentless pummeling by the Syrian government's barrel bombs. It shows in shocking close-up detail what civilians in Daraya have had to live through," said Magdalena Mughrabi, Middle East and North Africa interim deputy program director at Amnesty International.
"It is absolutely outrageous - though not surprising - that the Syrian government has continued to bombard and starve its own civilians. And it is unacceptable that the UN and other influential international players are not doing more to address the critical situation in Daraya and other besieged locations."
The city has endured thousands of attacks using this crude form of weapon. But while no barrel bombs have been dropped on Daraya since the partial "cessation of hostilities", which started Feb. 29, there have still been attacks with other weaponry.
According to Amnesty there are between 4,000 and 8,000 civilians remaining in the city continue to suffer from severe food and medical shortages and no electricity.
The video has been released as the next attempt at peace talks is due to take place in Geneva. And Amnesty hope its publication will spur the international community to persist with its demands of the Syrian government to grant immediate humanitarian access to Daraya and all areas still under siege.
The international community has voiced its concern recently over the use of barrel bombs, which are made from oil barrels, fuel tanks or gas cylinders which are packed with explosives, fuel, and metal fragments and dropped from helicopters and planes.
By definition they are an imprecise form of weaponry and therefore, said Mughrabi, should not be used on areas where civilians are known to be.
Data collected by the local council of Daraya City claims there have been 6,800 barrel bombs dropped there between January 2014 and the "cessation of hostilities" agreement.
It is thought at least 42 civilians – including 17 children – have been killed. And a further 1,200 have been injured. The population has become so use to the attacks – the Amnesty report states – that they immediately run to shelters the moment they see a helicopter flying over them.
The video – which was shot by members of the public in the city between 2014 and the cessation shows scenes of Syrian government forces' barrel bombs falling and exploding inside the city, as people watch on in terror.
"They want to kill me," a bespectacled young girl with curly hair says when asked about the bombs.
In another scene, an injured young boy lies alongside the corpse of his brother who was killed in a barrel bomb attack, weeping and begging: "My brother, please don't leave me."
"It is difficult even to imagine the scale and depth of human suffering endured by civilians in Daraya and other besieged areas of Syria," said Mughrabi. "Every day that goes by without aid delivery means that the humanitarian crisis in Daraya worsens."
Meanwhile government forces have cut off Daraya and not allowed any humanitarian aid at all since November 2012, the Amnesty International statement added.
The blockade has left medical workers severely under-resourced to cope with the humanitarian crisis facing them. And according to Amnesty International, the only remaining field hospital in the city has been targeted 15 times by government forces.
"The Syrian government must allow urgently needed aid to get into to Daraya, in compliance with its obligations under international humanitarian law and binding UN Security Council resolutions," the statement added.