UN: Syria Kurds block civilians fleeing ISIS
ISIS swept towards the last rebel strongholds of Marea and Azaz in Aleppo province on Friday, forcing thousands to flee
Civilians fleeing an ISIS offensive in northwestern Syria have been prevented by Syrian Kurdish authorities from entering areas under their control in response to rebel shelling of a Kurdish-held area of Aleppo, the United Nations said.

The civilians have been fleeing fighting between Syrian rebels and ISIS that advanced into the opposition-held town of Marea at the weekend, a significant advance by the militants against Turkish-backed insurgents.

The United Nations has expressed concern about an estimated 8,000 Syrians trapped by fighting in northern Aleppo.

All the main parties to the Syrian war are fighting in the Aleppo area, and the Turkish-backed rebels who are battling ISIS north of the city have also been involved in hostilities with the Syrian Kurdish YPG militia, which controls wide areas of territory to the west of Marea.

A situation update from the UN Office for the Coordination of Humanitarian Affairs (OCHA) said about 2,000 people had managed to evacuate Marea and nearby Sheikh Issa, which were encircled by ISIS on May 27.

"However, an estimated 7,000 civilians still remain inside and unable to leave due to restrictions imposed by Kurdish authorities," it added, saying that was a Kurdish response to rebel shelling of Aleppo's Kurdish-held Sheikh Maqsoud area.

Meanwhile, opposition authorities in the rebel-held town of Azaz near the Turkish border have issued a directive to not let in any more people fleeing ISIS-held areas.

The court that issued the order cited fears of infiltration by covert ISIS militants posing as internally displaced people (IDPs), after 8,000 IDPs arrived in Azaz, OCHA said.
Concerns rising
Pablo Marco, the regional manager of the charity known by its French acronym MSF, said concerns were rising for a large civilian population less than five kilometers (three miles) from advancing ISIS militants.
"We are talking about 100,000 people who are trapped a few kilometers from ISIS. They are terrified, there is nowhere to go," Marco said in a telephone interview with AFP.
ISIS swept towards the last rebel strongholds of Marea and Azaz in Aleppo province on Friday, forcing thousands to flee towards the northern frontier.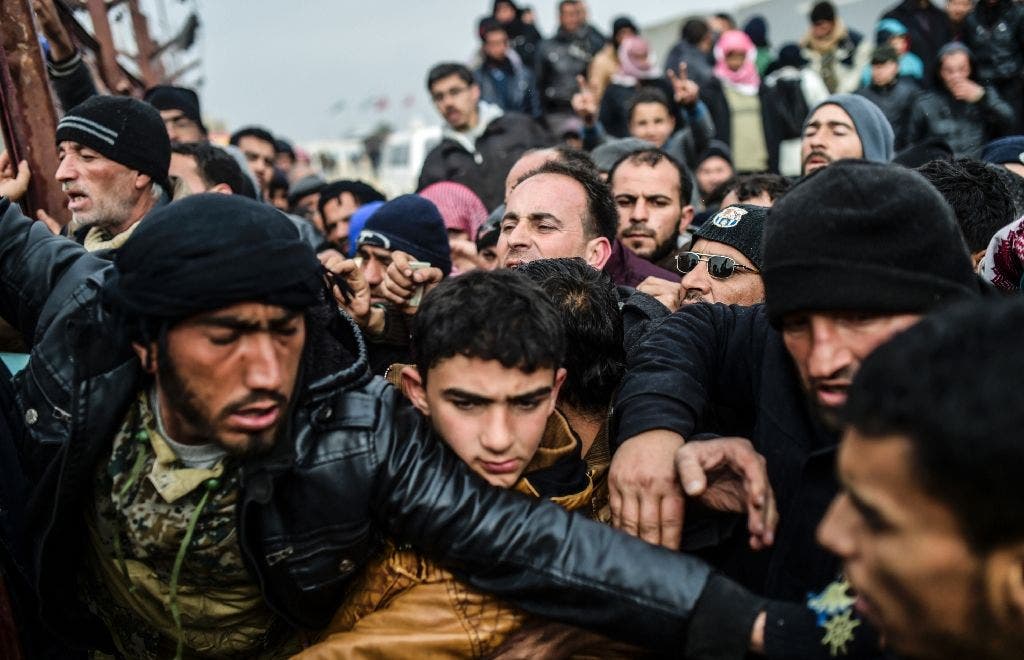 But Turkey has kept the border closed, leaving civilians stuck between the violent front line with ISIS to the east, the sealed border to the north, and the autonomous Kurdish canton of Afrin to the west.
"These people are now in a very small area of four by seven kilometers," said Marco.
"The situation is absolutely unsustainable and unacceptable for this population."
MSF's Marco said many of those who were fleeing the ISIS onslaught in recent days had already been displaced two or three times from other parts of the province.
"You can imagine how hard it is for them."
More than half of Syria's population have fled their homes since the conflict first erupted in 2011, with nearly five million escaping to neighboring countries.
An estimated 6,000 people have escaped the fighting in Marea either towards the border or west towards the Kurdish-controlled region of Afrin.
But with limited resources, Marco said, Kurdish authorities would not be able to take in an influx of displaced individuals.
As the circumstances grow increasingly dire, Marco called on the Turkish authorities to allow safe haven for those fleeing ISIS' speedy advance.
"We know that the Turkish authorities are very concerned about the situation. They have made big efforts as you know, but the situation is so terrible that it justifies (opening the border)."
But he also called on the European Union "to do their part" to both support Turkey and take in more Syrian refugees escaping violence at home.
"All actors who are involved need to find a solution... This is really a shame."
Seizing ground
US-backed Kurdish-led fighters have seized ground from ISIS in Syria, a monitor said Tuesday, as the militants come under attack in their Fallujah bastion in neighboring Iraq.
The Syrian Democratic Forces, who control a swathe of territory along the Turkish border, launched a push south towards the ISIS stronghold of Raqqa last week, capturing a string of villages in the north of Raqqa province.
"The SDF has captured 12 villages... northwest of Raqqa in the past 36 hours," Syrian Observatory for Human Rights chief Rami Abdel Rahman told AFP.
Abdel Rahman said that the villages lie 80 kilometers (50 miles) or more from Raqa itself but that the jihadists' de facto Syria capital was not the immediate goal.
He said the target of the offensive was the town of Tabqa and its adjacent dam on the Euphrates River, which lie some 40 kilometers (25 miles) upstream.
IS lost 18 fighters in the fighting on Monday, taking its losses since the start of offensive on May 24 to 79, he said.
Among those killed were 24 child fighters from IS's "Cubs of the Caliphate" recruitment program.
The Observatory had no immediate word on SDF losses or any civilian deaths.
The United States has ignored angry protests from its NATO ally Turkey to back the SDF, an alliance of Kurdish and Arab fighters it regards as the most effective force on the ground against IS in Syria.
It has deployed more than 200 special forces personnel to work alongside it.
Ankara regards the alliance's most powerful component -- the Kurdish People's Protection Units (YPG) -- as a branch of the rebel Kurdistan Worker's Party (PKK), which has waged a three-decade insurgency against the Turkish army.
Foreign Minister Mevlut Cavusoglu said on Sunday that Ankara was ready to join forces with Washington for a special operation inside Syria on condition it did not involve the YPG.

(With Reuters and AFP)