Prince Mohammed bin Salman meets Congress members
Economic issues will be the key topic of discussion on the Saudi deputy crown prince's visit
On the third day of his visit to the United States, Saudi Deputy Crown Prince Mohammed bin Salman on Wednesday met with a number of leading congressmen and women in Washington.
A previous release stated that he was set to meet with Paul Ryan, the speaker of the House of Representatives, Democratic minority House leader Nancy Pelosi, and US Secretary of Commerce Penny Pritzker, in addition to prominent business leaders in the US capital.
Economic issues would be the key topic of discussion on this visit, with the two long-standing allies having 300 existing joint investments and projects.
Prince Mohammed also met on Wednesday with Tom Cotton, a Republican senator from Arkansas.
His office said in a statement that the two had discussed "mutual security interests" including counterterrorism efforts against al-Qaeda and ISIS, and economic issues including Saudi's Vision 2030 reform program.
The two also discussed "the threat posed by Iran's aggression in Syria, Iraq, Yemen, and the broader Middle East," his office added.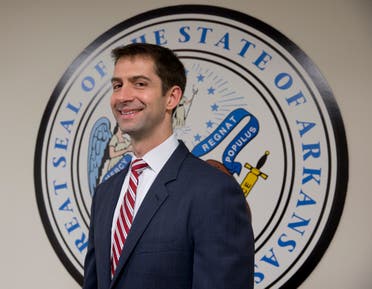 The Deputy Crown Prince met on Tuesday CIA Director John Brennan, and Director of National Intelligence James Clapper in Virginia, and discussed with terrorism, security and intelligence cooperation.
The CIA chief has told Al Arabiya Channel that the United States has a 'strong' partnership with Saudi Arabia in the war against terrorism.
Special attention
In the exclusive interview, Brennan said that "the Saudis have become among our best counterterrorism partners" over the last 15 years.
Meetings of Prince Mohamed bin Salman with congressional leaders will also be held on Thursday morning. The meetings attract special attention in light of growing concerns over terrorism after Sunday's attacks on a Florida nightclub that killed 50 people.
The deputy crown prince kicked off his visit to the United States on Monday by holding a meeting with Secretary of State John Kerry at the latter's residence in Washington. There, the two discussed boosting Saudi-US ties, regional issues, and the importance of fighting terrorism.
The deputy crown prince is leading a large delegation on this visit, which includes ministers of energy, foreign affairs, information and trade, along with military commanders.
It is expected that Prince Mohammed will meet US President Barack Obama on Thursday and Secretary of Defense Ashton Carter on Friday.
After Washington, the visit will include stops in New York and California.