Emirati man shuns US arrest apology, demands $200mln compensation
Ahmed Al Menhali has rejected an apology from US officials and said he wants at least $200 mln compensation
The Emirati who was handcuffed and searched at gunpoint by police in the US after a hotel clerk and her family told them he had pledged allegiance to ISIS has refused to accept an apology from officials and said he wants no less than $200 mln compensation.
Now a US prosecutor is reviewing whether to pursue charges against the Ohio hotel clerk who raised suspicions that the businessman dressed in traditional clothing could have links to terrorism.
Shocking video footage captured by a policeman's bodycam captured the moment Ahmed Al Menhali was confronted as he walked out of an American hotel, by armed officers who immediately forced him to the ground and cuffed him.
Police were responding to a call from a hotel clerk at the Fairfield Inn and Suites in the American city of Avon claiming Menhali had pledged his support to ISIS. It has been suggested that relatives of the clerk also called after speaking to her.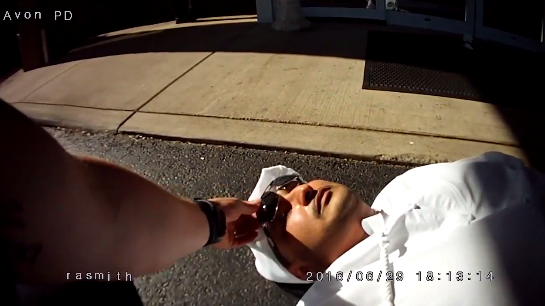 What ensued saw Menhali searched, his thobe knocked off his head and his kandoora pulled up as police appeared to look for concealed weapons. As police came to realize their mistake – that Menhali was in fact a Gulf Arab enquiring about a room – he collapsed to the floor and ambulance was called.
During the video police can be heard discussing with him that he had previously suffered from a stroke. He told the newspaper that his health problems made it difficult for him to move as quickly as the police appeared to want him to. They pushed him in the back, causing him further injuries, he added.
The video has since gone viral, sparking outrage around the world over his treatment. US officials have contacted Menhali, who has apparently pre-existing health problems, and apologized, but he has rejected these and said he wants at least $200 mln compensation.
Speaking to UAE daily Khaleej Times, Menahli said in a telephone interview: "I am happy an apology came through. It means that there's a step forward, but that does not mean their apology is accepted nor that I will give up on my right."
During the interview he also told the newspaper that he questioned the police officers' intentions, claiming he saw "hate in their eyes".
He told the newspaper that the incident disrupted a $70 mln business deal he had been working on with a pharmaceutical company in San Diego.
Describing the incident he explained that he had gone into the hotel to make an inquiry, but said the clerk seemed to keep him at the reception for a long time, while he said he believes she called the police. He said the treatment he received from the police was "inhumane" and "demeaning".
He explained that as police approached they yelled at him "to get down". He added: "I thought there was a problem at the hotel from which they were trying to protect me."
The police were responding to 911 calls from the clerk's family expressing fears that Menhali might have had ties to ISIS. The clerk's sister had told police he was "pledging his allegiance or something to ISIS."
Since the incident the United Arab Emirates has warned its citizens to avoid wearing traditional garments abroad. Now Avon city officials have said the investigation has been turned over to the prosecutor's office to decide whether to pursue charges against the callers.
(With AP)