Turkey hints at normalization of ties with Syria
Turkey's statement over Syria follows the restoration of diplomatic ties with Russia and Israel
Turkey's prime minister hinted on Wednesday that his country wants to normalize ties with Syria in what would mark a U-turn in its foreign policy after Ankara's long vociferous objection against President Bashar Al-Assad's regime.
"I am sure that we will return (our) ties with Syria to normal. We need it," Binali Yildirim said in a televised address Wednesday, describing how Turkey is expanding its circle of friends.
Turkey, which has long argued that only Assad's departure could stabilize Syria and is a necessary component to yield a political solution in the conflict-torn country, had its premier making the statement following the restoration of diplomatic ties with Russia and Israel.
Russia and Iran both back Assad, and Turkey cut ties with the Syrian regime after a popular uprising erupted in 2011.
"We normalized relations with Russia and Israel. I'm sure we will normalize relations with Syria as well. For the fight against terrorism to succeed stability needs to return to Syria and Iraq," Yildirim said.
He also said that Turkey's "greatest and irrevocable goal" is to develop relations not only with Syria but also with Iraq and "all our neighbors that surround the Mediterranean and the Black Sea."
While one official told Reuters that "there is currently no change in Turkey's Syria policy" and that Turkey "does not want to have problems with any countries in the region and emphasizes the importance of ending terrorism," analysts deem Yildirim's statement as revealing Ankara's re-organizing its priorities in light of the consequences felt in the country following the Syrian crisis.
For his part, London-based Syrian journalist Ghassan Ibrahim wrote on his official Facebook page that the "password for the closer ties between [Turkish President Recep Tayyip] Erdogan and [Syrian President] Bashar Assad was... the Kurds."
Ibrahim, who has numerously criticized the Assad regime, also wrote speculating in another Facebook post that the normalization of relations between Ankara and Damascus was a pre-condition for Turkey's normalization with Russia, and both could work to halt the creation of a separate Kurdish state.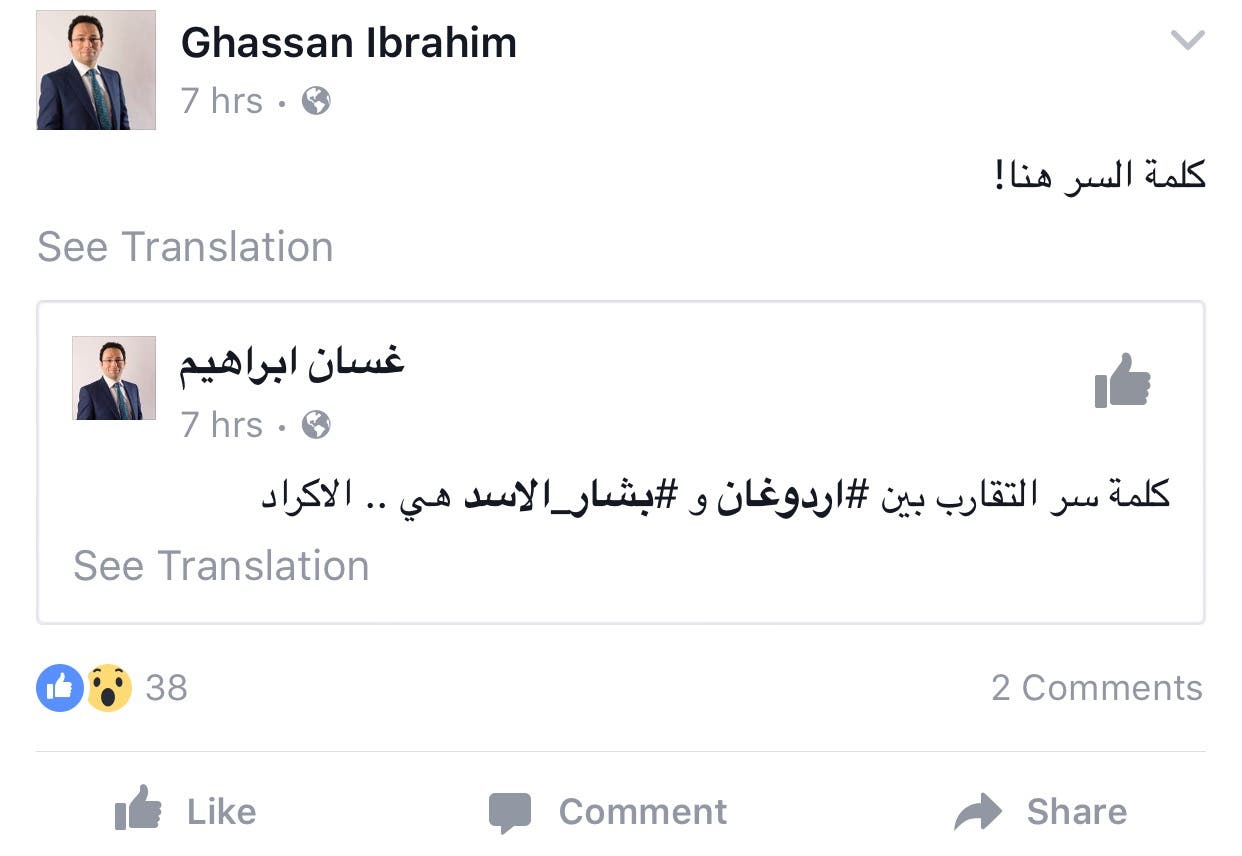 Ramadan Kozan, a university professor for International Relations at Marmara University in Istanbul, says: "Yes, there is a sharp U-turn in Turkey's foreign policy."
"Turkey is feeling the pain of the consequences coming from its foreign policy on Syria, not just on an economic level but also in terms of its security and national solidarity," he said.
Kozan said the main reason behind the change is "Turkey improving its position regarding terrorist operations" executed by the secessionist Kurdistan Workers' Party (PKK) militant group, blacklisted as a terrorist organization by Turkey and its Western allies.
With the rise of ISIS, the Kurds whether in Iraq and Syria have gained a reputation of being the hard-hitting fighters including their women soldiers against the jihadist group.
Kurds being a key component in the fight against ISIS also made them a suitable ally for the US in its operation against the militant group.
However, this made Turkey feel uneasy especially Ankara claims that the People's Protection Units (YPG), the military wing of the Syrian Kurds' the Democratic Union Party (PYD), has affiliation with the PKK.
The professor said Turkey's approach is to "wait and see" till Syria is "rehabilitated" for its final foreign policy to fully come to fruition.
There has been some unconfirmed media reports about indirect talks between Ankara and Damascus in recent months.
The professor also said this "new strategy" could create a "more convenient alternative" to find a solution for the Syrian conflict by putting more pressure on Assad's key ally, Iran.
"Turkey is trying to solve the Syrian problem by trying to make a contact with Assad through Iran," he claimed. "Turkey is trying to engage with Iranian government to resolve the Syrian problem and attempt the removal of Assad regime by replacing it with a more representative government to the Syrian people."
Meanwhile, media reports carried comments by a number of Turkish MPs denying that Ankara would ever re-establish ties with Assad and that their country's policy towards the Syrian regime remains unchanged.
Also, tensions were also rising with Kurdish rebels in Iran. In late June, 11 Kurdish rebels and three of Iran's elite Revolutionary Guards were killed in clashes near the Iraqi border.