Turkey to formally demand US to extradite Gulen
Turkey's justice minister said that the 75-year-old cleric's involvement in orchestrating the coup was as clear as 'the existence of the Sun'
The Turkish government will write to the United States and other Western governments to demand the return of US-based Islamic cleric Fethullah Gulen and his supporters following a failed coup attempt, President Recep Tayyip Erdogan said.
Responding to the request, US Secretary of State John Kerry said that Turkey would have to give solid evidence to provide a legal foundation to extradite Gulen, a former Erdogan ally who has lived in self-imposed exile in Pennsylvania since 1999. The top US diplomat added that there had not yet been a formal extradition request for the cleric from Turkey.
Turkey's justice minister Bekir Bozdag told state-run news channel TRT that keeping Gulen "wouldn't befit the solidarity, cooperation, alliance and friendship between Turkey and the United States."
The minister added there was not a single person in Turkey who doubted Fetullah Gulen was behind the coup attempt.
He said, "does one need evidence to prove the existence of the Sun? This is just as clear a matter."
He added that Turkey would be submitting the necessary documentation, but hoped the US would extradite without waiting for the paperwork.
Yet Washington is unlikely to hand Gulen over to Ankara without evidence of illicit involvement in Turkey's coup.
Nathaniel Tek, the US State Department's regional spokesman, echoed Kerry's comments that evidence would be required to prove the cleric's wrongdoing. "There needs to be a set of specific documentation, with evidence, that goes directly to our Department of Justice," Tek told Al Arabiya English.
"At that point, what happens is that we review the request, in accordance with US federal law and international law, and then we'll make a decision at that point."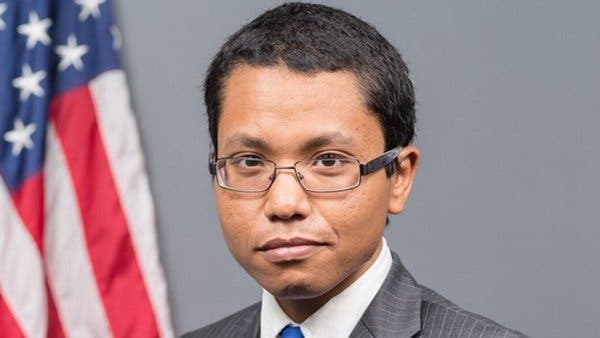 Responding to claims that the coup attempt was orchestrated by the United States to bring about regime change in Turkey, Tek said that the government "categorically den[ies] that accusation. "The US stands firmly with the democratically elected government of Turkey, and we have complete confidence in the Turkish government," the spokesman added.
Suspect service
Gulen runs the transnational religious Hizmet movement, meaning service, which runs a network of schools, including 300 in Turkey. Gulen denies orchestrating the coup attempt, stating in an interview that the failed coup attempt, which killed at least 265 people, could have been "staged" by Ankara to shore up power.
Turkey's foreign ministry said later on Sunday that the coup attempt was staged in no "uncertain terms" by Gulen's "terrorist organization," a reference to Hizmet.
Erdogan, who was speaking at a funeral for some people who were killed in Friday night's violence, called on his supporters to remain in public squares. Erdogan blames Gulen's supporters in the military for the attempted coup against his government.
Erdogan – who during the Friday night coup attempt went on air via a smartphone interview broadcasted on CNN Turk to tell citizens to resist the pro-coup army units - vowed on Sunday to clean out the "virus" within state bodies, during a speech at the funeral of victims killed during the coup bid.
ANALYSIS: Understanding the backdrop to Turkey's failed military coup
"We will continue to clean the virus from all state bodies because this virus has spread. Unfortunately like a cancer, this virus has enveloped the state. We knew this and told all relevant authorities," he warned thousands of mourners at the Fatih mosque in Istanbul.
Who is Gulen?
Trained as an imam, or prayer leader, Fethullah Gulen gained notice in Turkey some 50 years ago, promoting a philosophy that blended a mystical form of Islam with staunch advocacy of democracy, education, science and interfaith dialogue.
Supporters started 1,000 schools in more than 100 countries, including about 150 taxpayer-funded charter schools throughout the US in Turkey, they have run universities, hospitals, charities, a bank and a large media empire with newspapers and radio and TV stations.
The US has shown little inclination to send Gulen back to Turkey. The Justice Department has declined to comment on Gulen's case. In an interview with the Associated Press early this year, Aslandogan, of the Alliance for Shared Values, said: "(Gulen) said that the United States has a long tradition of democracy and rule of law. ... They will see that these are politically oriented charges, and they will not allow Erdogan to spread his ambition into the United States."
READ ALSO: Fethullah Gulen: Who is the cleric being blamed for Turkey coup bid?
Taking back control
Since the coup, Erdogan has been on the offensive to gain back control of Turkey and punish the perpetrators. On Sunday, he said there could be no delay in using capital punishment after a failed coup attempt, adding the government would discuss it with opposition parties.

Speaking to a crowd of supporters who called for the death penalty outside of his home in Istanbul, Erdogan said: "We cannot ignore this demand." Turkey abolished capital punishment in 2004 to meet European Union accession criteria and has not executed anyone since 1984.

Erdogan also called on his supporters to continue protesting the coup attempt in the streets and public squares until Friday, saying the threat against him was not completely eliminated.
As part of a wide-scale purge of the army and justice officials, a military aide to Erdogan was taken into custody on Sunday accused of involvement in the attempted coup, the state-run news agency Anadolu reported.
Colonel Ali Yazici, who had only started working for Erdogan in August last year, is one of about 6,000 people detained in a massive crackdown since Friday's coup bid.
He was in Ankara at the time of the putsch, while Erdogan was on holiday in the Mediterranean resort of Mamaris, CNN Turk television reported.
It was not immediately known what role he was accused of having in the bid to overthrow Erdogan's government.
Meanwhile on Sunday evening, Turkish law enforcement officials fired warning shots at Istanbul's Sabiha Gocen Airport - the city's second hub - after backers of the failed coup had resisted arrest.
The official, who spoke on condition of anonymity in line with government protocol, initially reported there were clashes in the area.
He later retracted that statement saying there was "no exchange" of fire and security forces had only fired "warning shots."
Meanwhile, Anadolu Agency reported that seven people, including a colonel were detained at an air base in the central Anatolian city of Konya.
The same official said the situation in Konya was "under control" after coup backers there also resisted arrest.
"This is why we have been asking the people to stand guard and remain aware," he said.

(With Reuters and AFP)