US aims to calm strained Turkey ties post-coup bid
Turkey has accused Western leaders of being more concerned about the rights of the plotters than the gravity of the threat to a NATO member.
America's highest-ranking military officer sought on Monday to soothe strained ties with NATO ally Turkey, which was angered by the West's response to a failed military coup and an apparent US reluctance to hand over the cleric it says was responsible.
The fallout from the abortive coup on July 15, in which more than 230 people died as mutinous soldiers commandeered fighter jets, helicopters and tanks, has deepened a rift between Ankara and its Western allies.
President Recep Tayyip Erdogan and many Turks have been frustrated by US and European criticism of a government crackdown in the aftermath of the attempted putsch in a country vital to the US-led fight against ISIS and to stopping illegal migration to Europe.
They have accused Western leaders of being more concerned about the rights of the plotters than the gravity of the threat to a NATO member.
More than 60,000 people in the military, judiciary, civil service and education have been detained, suspended or placed under investigation since the coup, prompting fears that Erdogan is cracking down on all dissent.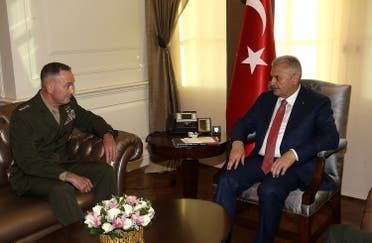 "It is important that the United States, our friend and ally, display a clear and decisive stance against this terrorist coup attempt against our nation and democracy," Prime Minister Binali Yildirim told chairman of the US Joint Chiefs of Staff General Joseph Dunford during their meeting in Ankara.
Condemning the failed coup in Turkey, Dunford, the principal military adviser to the American president, said his visit was to show solidarity and added that the United States supports Turkish democracy, a statement from Yildirim's office said.
Earlier on Monday, about 150 protesters marched to the US Embassy in Ankara to protest Dunford's visit. "Coup plotter Dunford get out of Turkey," the crowd chanted.
"Dunford go home. Send us Fethullah," said one banner, in reference to US-based Turkish cleric Fethullah Gulen, whose network of followers in the military and state institutions are blamed by Erdogan for orchestrating the coup plot.
The 75-year-old cleric, who has lived in self-imposed exile in Pennsylvania since 1999, denies involvement in the failed coup. President Barack Obama has said Washington will extradite him only if Turkey provides evidence of wrongdoing.
Dunford also met his Turkish counterpart and US personnel stationed at the Incirlik air base in southern Turkey, used by the US-led coalition in the fight against ISIS.