Dubai flights resume after Emirates crash
Footage on social media showed smoke billowing from the aircraft, while passengers were reportedly escorted to safety
A firefighter has died and 13 people were taken to hospital after an Emirates airline flight from India made an emergency landing at Dubai International Airport on Wednesday, before bursting into a ball of flames. There were 282 passengers and 18 crew on board, Emirates confirmed.
"Emirates can confirm that today, 3rd August 2016, flight EK521 travelling from Trivandrum International Airport in Thiruvananthapuram, India to Dubai has been involved in an accident at Dubai International Airport. There were 275 passengers and crew on board," a statement posted on the airline's official Facebook page read.
"Our main priority at this time is the safety and wellbeing of all involved and full co-operation is being extended to the authorities and emergency services managing the situation," the statement read.
Speaking at a press conference later in the day the Emirates airline CEO, Ahmed bin Saeed Al Maktoum, said a firefighter was killed as he attempted to tackle the blaze, without giving further details. And he said that it was not a security incident.
Speaking to reporters the Emirates CEO said all passengers and crew were evacuated before the aircraft was engulfed in a ball of flames. He said there were 13 people taken to hospital with what he said were only minor injuries.
According to the Associated Press Dubai's ruler, Sheikh Mohammed bin Rashid Al Maktoum, was Wednesday mourning the firefighter who died in the incident.
Footage on social media and re-posted by Dubai-based Gulf News showed smoke billowing from the aircraft. All passengers were reportedly escorted to safety. Dubai's Media office confirmed that emergency response teams at the airport fully extinguished the fire on the plane nearly two hours after the crash-landing.
A company representative reached by Al Arabiya English said they could not comment further on the accident, but that all passengers and crew are safe.
Al Arabiya News Channel correspondent in Dubai Abdullah Al-Muttawa said that all flights were "diverted either to Maktoum International Airport or Sharjah International Airport."
He added: "Authorities dispatched emergency personnel on the ground and were able to evacuate all passengers on board to safety and there are no reports of injuries or casualties up until now.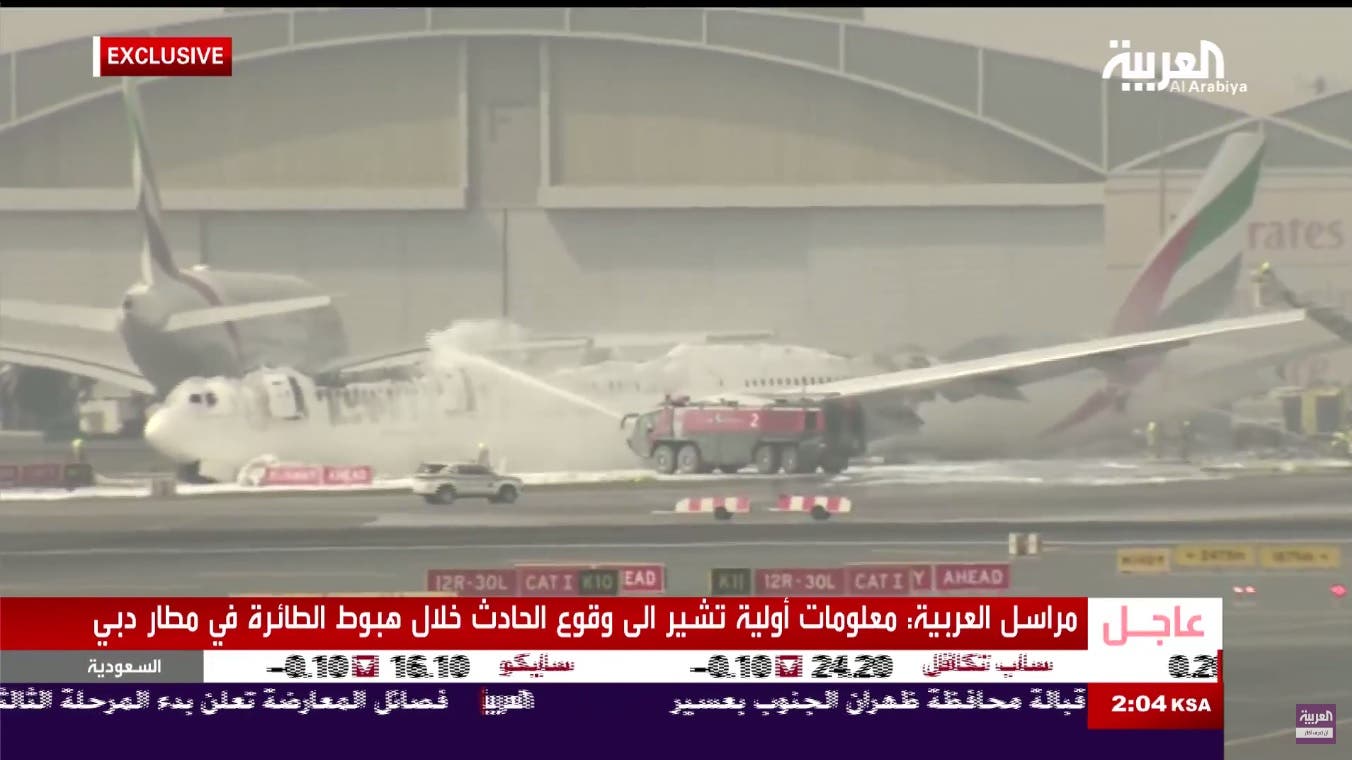 Muttawa also said that there were reports of smoke onboard before the plane made an emergency landing.
Meanwhile, all departure flights from Dubai international airport were delayed until further notice, Dubai authorities said.
Commenting on the incident, Kuwait-based former pilot Sami al-Nusuf, told Al Arabiya: "Emirates airlines has proven itself from past incidents in handling high pressure situations. Its record has been clean so far."
When asked how it was possible to promptly evacuate so many people, Nusuf said: "What happens is that multiple trials and scenarios are practiced by the cabin crew before they are allowed to take flights. They are trained both in getting passengers out within 90 seconds and in handling widespread panic."
The relative of one of the passengers onboard the plane said some had "inhaled smoke."
"People have inhaled smoke. Those who left the plane early might not have. But those who went out later have inhaled smoke," Reji George told Gulf News.
"All of them in the hangar. We don't know how long it will take for them to come out."
The Twitter account of live air traffic monitor Flightradar24 said takeoffs and landings at Dubai had been suspended because of the incident, adding that the plane involved was a Boeing 777-300 A6-EMW.
But by 7pm Dubai International Airport was reopoened and flights were allowed to land and take off.
Latest Emirates Airlines statement: