Iran 'tortured' prisoners before executions
Execution of 25 Sunni-Kurdish activists, who included young preacher Shahram Ahmadi, was met by a wave of global condemnation
A human rights organization said the families of the Sunni-Kurdish prisoners whom Iran executed earlier this month revealed that Iranian intelligence members had tortured their sons prior to executing them by hanging.

The Defenders of Human Rights Center in Kurdistan quoted the families of the executed prisoners as saying that they've seen torture marks on their son's bodies in addition to broken legs and arms.

On August 2, members of the intelligence and masked members affiliated with the Iranian special security units raided the political prisoners' section in the Rajai Shahr Prison in Karaj, west of Tehran, and led 36 Sunni Kurdish activists, who were sentenced to death at the time, to an unknown location. The next day, news of executing 25 of them was released

The Defenders of Human Rights Center quoted an activist in Sanandaj, capital of the Kurdistan province, as saying that Iranian intelligence members threatened to arrest the family members of the executed men if they speak to the media about the torture marks on their children's bodies.

The activist added that security forces also warned them of holding funerals for those hanged.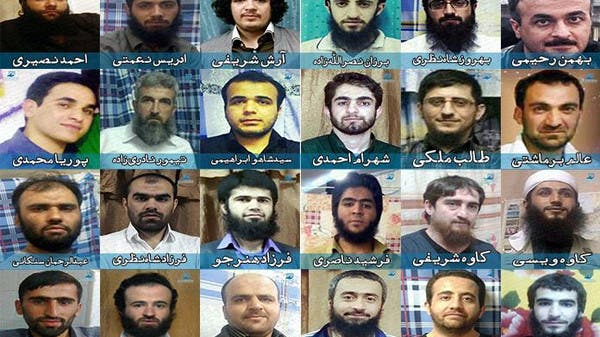 The Human Right Activists News Agency (HRANA) had reported that prior to executing the Sunni Kurdish activists, security officers handcuffed, blindfolded and physically assaulted them up and then held them in solitary confinement.

The execution of the 25 Sunni activists, who included young preacher Shahram Ahmadi, was met by a wave of international condemnation against Tehran.

The UN, EU, US and international human rights organizations have condemned the executions and criticized their trials for lacking transparency, for basing the verdicts on confessions made under torture and for not allowing the defendants to defend themselves.

In letters they leaked from jail to international human rights organizations, most of the executed men denied performing any armed acts and confirmed that their activity focused on the activities on religious teachings and that they were not members or supporters of any extremist movement.
A version of this article is available in Arabic on AlArabiya.net.